Hyperloop One Plans to Bridge Sweden and Finland by 2028
An accounting firm estimates it will cost €19 billion.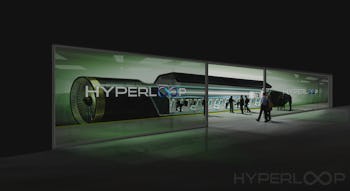 Hyperloop One
Hyperloop One plans to cut the commute between Sweden and Finland down to 30 minutes — and it needs an estimated 19 billion Euros and 12 years to do so.
The startup is considered the frontrunner in the race to take Tesla founder Elon Musk's Hyperloop, a futuristic transportation system that shoots passenger-filled pods through tubes at a greater acceleration than the human body may be able to handle, from concept to reality.
Now the company is planning to take its technologies to Europe, where it has reached an agreement with the city of Salo to build the first 50-kilometer stretch of a Hyperloop network that will eventually link Finland and Sweden.
A report from FS Links — a group dedicated to bringing Hyperloop to the Nordic region — and the KPMG accounting firm estimates it will cost 19 billion Euros to build.
Hyperloop One says those 19 billion Euros will have to be invested over the 12 years it will take to build the network. First, it has to build up local Hyperloop networks in both Finland and Sweden, which will take about eight years. Then it has to connect the two with an undersea tunnel — that'll take another four years. Only then will it be able to deliver on its promises to connect the two countries.
Which raises the question: Who's going to be willing to invest billions of Euros in a project from an unproven company working on a transportation system that was deemed not "even close to feasible" by engineers who examined Musk's plan? And for how long will they wait for a return on their investment before they simply write off all that money?
"There are many private and public options at our disposal," Hyperloop One says. "Governments at the city, regional, national and EU level may choose to fund the project or provide loan guarantees to a private entity based on the wider economic benefits FS Links can deliver in time saved, higher productivity, reduced pollution and wear-and-tear on roads." Later, it adds that "given the size of the project, it will likely be a blend of public and private sector capital."
Of course, all of this hinges on Hyperloop One proving that it can build these networks in the first place. The company plans to demonstrate a "full-scale, high-speed test of its track, vehicle and controlled-environment tube" late this year or in early 2017. This means the earliest Sweden and Finland can be connected by a vacuum-powered transit system would be 2028 or 2029 — and that's assuming building goes according to schedule and Hyperloop One can fund the project.
Until all of those criteria are met the Hyperloop remains little more than a pipe — sorry, the preferred term is "tube" — dream.