Elon Musk's Hyperloop Disciple Wants to Run Arrivo Like SpaceX
"We're aiming to move vast and develop technology very quick."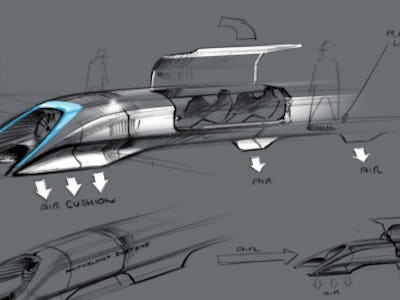 SpaceX
Brogan BamBrogan, the founder and CEO of Arrivo, learned a very important lesson during his time as an engineer for SpaceX: don't waste time.
In the past four years, hyperloop has gone from Elon Musk's personal sketchpad to a somewhat-realistic vision for the next generation of transportation, with at least one serviceable test track shuttling pods around the desert. T
Right now, only one company, Hyperloop One, has demonstrated actual hardware that could build toward a system of vacuum-sealed tubes shooting transport pods at 700 miles per hour or more across the country. Arrivo, which launched in February wants to be the second — soon.
"We're aiming to move fast and develop technology very quick," BamBrogan tells Inverse. "It's what I learned at SpaceX. Not only does it lead to a very fast technology development but it's potentially a lot more fun to move fast and work hard. We're absolutely building hardware right now."
BamBrogan worked at SpaceX for nearly a decade, from 2003 to 2013. He was present during the company's transformation into one of the first independent, private spaceflight companies, when CEO Elon Musk decided that he'd rather design and build his own rockets than use anyone else's. Still, BamBrogan won't say when Arrivo will begin testing, and the fledgling company has little to show so far. But BamBrogan says that his company has "plenty of money," and would have more to announce soon.
"We'll announce our testing when we choose to do so but we're absolutely a hardware focused company, a tech focused company," he says.
In other words, the company doesn't intend to go the way of Hyperloop Transportation Technologies, another hyperloop startup that's essentially a crowd-sourced platform for vaporware (Arrivo has around 20 full-time employees and hopes to expand to 60 or more in 2017, most of them engineers). Before launching Arrivo, BamBrogan was also a co-founder of Hyperloop One, which he left in a whirlwind of personal drama in 2016 — despite the circumstances of his exit, BamBrogan was part of building Hyperloop One into the only company in the hyperloop race with a credible engineering background. Now he wants Arrivo to be the second one, modeled even more closely after SpaceX.
Part of this, BamBrogan says, is a willingness to embrace new technologies and cast off ones that aren't useful. Case in point: flying cars. BamBrogan's view of the future of transportation is once again in line with Elon Musk's, who thinks that flying cars are a safety liability and engineering nightmare.
"I personally am not a fan of flying cars," BamBrogan says, noting that the sheer volume of personal transportation would be an issue if cars took to the skies. "That's actually a future that I'm trying to fight against. If I'm someone developing a technology company today I'm trying to build a future in the way that I want it to be and looking up at a sky full of flying things is not the future I want."
Instead, BamBrogan thinks that tunnels and an integrated system of hyperloop transport and autonomous vehicles is the way forward for urban and national mobility.
"To me, that sounds like the future I want to live in, where transportation, or as we call it, arrival technologies are seamless and invisible and go quick and they're fully autonomous," BamBrogan says. "The idea of me getting from downtown Los Angeles to the airport isn't a massive drain on my emotional afternoon but it's an easy, seamless, safe, seven minutes. That's the future I'm trying to be a part of inventing."