Bruce Lee's Unfinished Kung Fu Show is Finally Coming to TV
'Warrior' is inspired by Bruce Lee's unmade TV show and notes discovered by his daughter Shannon.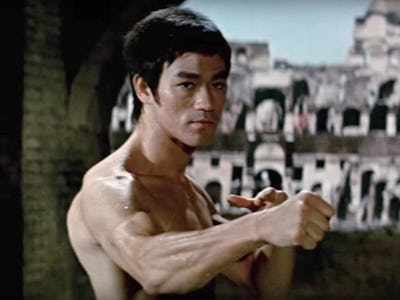 YouTube.com/Miramax
Two years before his death, at the age of 32, Bruce Lee pitched to Hollywood studios a TV show titled Warrior in which a martial arts master explores the American Old West. Hesitant to finance an expensive production with an Asian lead as the star, studios like Warner Bros. and Paramount balked at Lee's idea, leaving the actor's passion project unfulfilled. Now, Bruce Lee's original vision (with some tweaking) has just been given a 10-episode series order at Cinemax.
In a report from Deadline, film director Justin Lin (Fast & Furious 6, Star Trek Beyond) and Jonathan Tropper (co-creator of Banshee) have signed on to executive produce Warrior, which resets Lee's show from the Old West into late 19th-century San Francisco, amidst the city's historic Tong Wars. Described as a "gritty, action-packed crime drama" by Deadline, Warrior stars a character named Ah Sahm, a martial arts prodigy who emigrates from China and becomes a hired killer for one of San Francisco Chinatown's most powerful crime families.
Talk of reviving Bruce Lee's unmade show began in 2013 when Lin teamed up with Bruce Lee Enterprises, operated by Lee's daughter, Shannon, to finally turn Lee's dream show into a reality. The show will be based on unearthed notes Shannon Lee found written by her father, which contained all of his ideas. Cinemax became attached in 2015 with a pilot order last summer. But now, as Cinemax seeks to re-establish its reputation as a home for action-oriented genre content, the network has given Warrior an order for ten episodes.
Legend has it that after Lee failed to pitch his show, Warner Bros. took his idea to create Kung Fu, which had an extremely similar premise and starred white actor David Carradine as the half-Asian master Kwai Chang Caine. There is a lot of evidence to dispute this — Kung Fu came from creator Ed Spielman's experience exploring New York City's Chinatown in the 1960s — but what is known is that Bruce Lee's show was passed in favor of Spielman's Kung Fu.
With Bruce Lee's name vaguely attached, the show may be able to stand out from the small but growing number of martial arts TV shows, which include AMC's Into the Badlands, The CW's Arrow, and Marvel's Daredevil and Iron Fist on Netflix.