How to Stream Katy Perry's New Album 'Witness'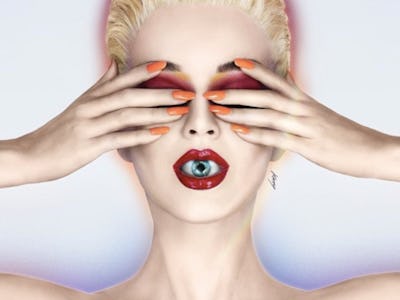 Capitol Records
Katy Perry's new album Witness is coming out on Friday, June 9. It's the singer's fifth LP, and the world has already gotten a taste of what's in-store with three songs, good for a fifth of the rather large fifteen-song full-length, her first in four years.
Perry's already released "Chained to the Rhythm," a solid, reggae-infused pop track featuring Skip Marley and an 80's flavor reminiscent of Culture Club. The "Chained to the Rhythm" video is like her own version of Black Mirror. The second single, "Bon Appetit," features the Atlanta hip-hop group Migos and it's somewhat forgettable dance-pop number. A third song, "Swish Swish", was released on Youtube on May 18, and due to some pretty generic beats, the song falls seriously flat.
Perry recently described the record as "fun and dance-y and dark and light." Based on the music at hand, it doesn't seem like Witness will be breaking out of the pop radio box — and runs the risk of being bland.
As you'd expected there are many ways to listen to Witness:
Witness will be Perry's fourth proper album, following 2013's Prism, 2010's Teenage Dream, and 2008's One of the Boys.
Witness Tracklist:
1.) "Witness"
2.) "Hey Hey Hey"
3.) "Roulette"
4.) "Swish Swish" (feat. Nicki Minaj)
5.) "Déjà Vu"
6.) "Power"
7.) "Mind Maze"
8.) "Miss You More"
9.) "Chained to the Rhythm" (feat. Skip Marley)
10.) "Tsunami"
11.) "Bon Appétit" (feat. Migos)
12.) "Bigger Than Me"
13.) "Save As Draft"
14.) "Pendulum"
15.) "Into Me You See"
A 43-date, North American tour will also kick off in support of Witness in early September.
See Also: 7 Ways Migos Are Technology Geniuses