Katy Perry's 'Chained to the Rhythm' Video Is Her 'Black Mirror'
"Are you lonely out there in utopia?"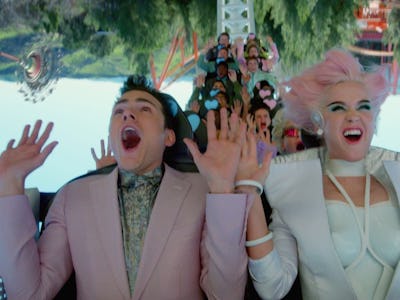 YouTube
Katy Perry's latest song "Chained to the Rhythm," now has a music video that's a dazzling hodgepodge of what we thought the future might look like back in the mid-20th century, but there's more to the video than just its pastel color palette and pseudo-modern technology.
Kicking things off in the video, released on Tuesday, Perry walks through the front gates of a seemingly pleasant enough amusement park named "Oblivia." Everything looks straight out of vintage science fiction illustrations, along with embracing a Jetsons aesthetic. Beyond the flying aircraft and metallic clothes, the music video mashes up with some more current themes of today's society; there are visitors who can't put down their screens while walking, an attraction called the "American Dream Drop," a roller coaster that blasts through a tunnel full of Facebook reactions, and more. It all appears to be a trip to a futuristic Six Flags with an added bonus of political commentary.
It's like Perry's giving viewers her version of Black Mirror.
YouTube commenters were quick to point out the themes brought up in her video. One writes, "Love all the hidden meanings, though some were pretty obvious and hurt like the 'Inferno H2O' representing the issues surrounding #NoDAPL and the impending loss of environmental protections. There's also a 1984 reference at 1:31 nice."
On top of this, there are some pretty clear messages about today's current political landscape with Donald Trump as president. There's a huge machine catapulting people over a large fence, similar to the one Trump has largely touted:
And the "nuclear family" depicted embodies traditional gender norms, without touching on the idea that families come in all shapes and forms nowadays.
Perry isn't the only celebrity getting political with her craft. At the 2017 Golden Globes, Meryl Streep used her speech as an opportunity to speak out against Trump. And while some might have missed the subtext of Lady Gaga's Super Bowl performance, her presence at the sporting event was undeniably charged.
The new music video is all fun and games, literally set in an amusement park, until the message gets across. Perhaps the dystopia in "Chained to the Rhythm" isn't out of the pages of a vintage science fiction book — it's clear that in the music video, it's already here.