Why Lady Gaga Didn't Have to Get Political at the Super Bowl
Some fans were left wanting more.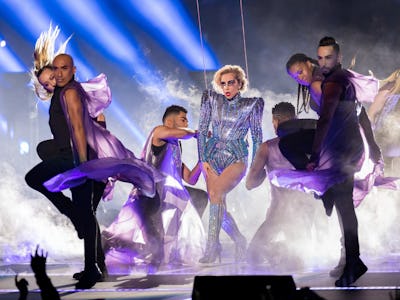 Getty Images / Christopher Polk
Leading up to Lady Gaga's Super Bowl halftime show, fans wondered whether the 30-year-old artist would take the opportunity to champion a cause. She hinted that she might, but played coy.
When she finally hit the stage, she didn't wave a rainbow flag or loudly proclaim "Fuck Trump." She stuck to her set list (full of the hits) and choreography, leaving the internet full of ideas for memes and split about Gagas lack of activism. Some might be cheering that Lady Gaga didn't turn things into a political discussion, but her performance was much more subversive than at first glance.
Let's get this out of the way first: Lady Gaga was given the task to perform at a huge national event that's broadcast to televisions everywhere, sponsored by one of today's most well-known brands, Pepsi. So it's understandable why she didn't laugh about the current president as she's done in the past or directly call him out, especially when one team at the sporting event is largely believed to support Trump. Instead, she had to get creative, along with using her lifelong career of speaking up for those whose voices often go unheard.
Gaga started off the halftime show with "God Bless America," going straight into "This Land Is Your Land," both songs that are taught to elementary school children everywhere in hopes of getting them feeling patriotic. But as Vanity Fair observes, there's a hidden message in from these two songs. The second's full version was originally written as a critique of the first; its full version also includes lyrics that question the idea that America is truly a country for all. One of the last lines is, "In the shadow of the steeple I saw my people, / By the relief office I seen my people; / As they stood there hungry, I stood there asking / Is this land made for you and me?"
A Hidden Message
It's a good guess that most don't know the history of "This Land Is Your Land," which has also been turned into a protest chant. Opening up with these two songs consecutively might be a calculated choice by Gaga; it's a nod to those who are actually aware of the song's symbolism and recent significance during a time of travel bans and border walls put in place by the man in the White House.
Gaga doesn't need to explain why she didn't make the halftime show a critique of the current political climate when she's been making these criticisms for years. Recently, she brought to light the experience sexual assault survivors with her 2015 song, "Til It Happens to You." Back in 2011, "Born This Way" became an LGBT anthem when many mainstream artists and public figures still shied away from discussing the disenfranchised community's struggles. Performing a song with such significance in front of millions of Americans at one of the largest institution's biggest event of the year is no little thing.
Some justifiably argue that Gaga failed her fans by not making a direct, opposition message to the policies of the Trump administration or the rising culture of racism in America. But when Vice President Mike Pence — the very politician that supported conversion therapy and wanted to get rid of marriage equality — is sitting in the audience, a message like "Don't hide yourself in regret, / just love yourself and you're set" is strong enough.
Gaga might not have made an explicit political statement Sunday, but that's because her entire career has been one.