The Internet is Convinced SpongeBob Inspired Lady Gaga
"Coincidence? I think not."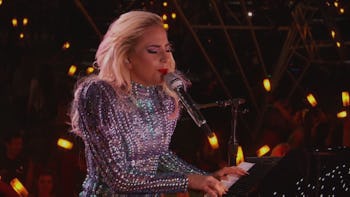 Fox
For Sunday night's Super Bowl LI performance, Lady Gaga went back to basics. She didn't start a satanic ritual, but she did fling herself off the roof of the NRG Stadium in Houston, Texas, and onto the football field. The internet had plenty of jokes to crack about the 30-year-old artist, taking a chance to meme Mother Monster to a crisp.
The performance opened up with Mother Monster's rendition of "God Bless America" and transitioned into a slew of classics including "Poker Face" and "Born This Way." She also threw in "Million Reasons" off her latest album Joanne before closing with "Bad Romance."
Lady Gaga performed the national anthem at the 2016 Super Bowl, where she was subsequently memed thanks to her fiery outfit. Fans and viewers gave her the same treatment for this year's Pepsi Halftime Show, capitalizing on the frenzy of acrobatics.
There was some suspicion that she stole the idea from none other than SpongeBob SquarePants.
Or perhaps Mission Impossible.
Others saw some deep symbolism in Gaga's performance.
People, keep your fathers safe from Mother Monster.
A few reporters felt specially akin to Gaga as she pounded on her keys.
The year's still getting started.
Understandably, some were frustrated by a lack of the occult at the halftime show.
When Lady Gaga started "Telephone," people got hopeful Beyoncé would show up for the duet.
Fans were sorely disappointed by a lack of Queen Bey.
But they could still admit that the performance was majorly lit.
Beyond jokes, there was some criticism of Lady Gaga. Many celebrities, including Meryl Streep, have spoken out against the Trump administration's policies that have negatively affected minorities.
Gaga has been a longtime champion of LGBTQ rights, most notably with the message of "Born This Way." She performed the song, but there was no direct calling out of discrimination that has spiked since Trump entered the White House.
However, others challenged this judgment, that Gaga simply bringing "Born This Way" and her image to people all over as something subversive in itself.
Meanwhile, Britney Spears has had the defintive Lady Gaga take since 2011.