Watch The Defenders Loiter and Harass Each Other on Twitter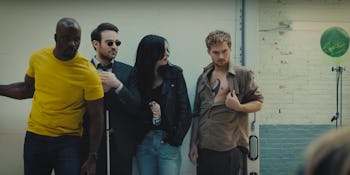 Entertainment Weekly
The first trailer for Netflix and Marvel's street-level hero team-up, The Defenders, made it clear that each of these heroes is "not here to make friends." A new batch of motion posters the various shows' Twitter accounts shared on Tuesday seems to confirm this, as they all show the Defenders giving each other shit.
The GIFs show various Defenders loitering at popular hangouts of one of their fellow heroes, creating a mini-crossover between at least two of the previously released series: Daredevil, Jessica Jones, Luke Cage, and Iron Fist. There are awkward riffs on Matt's lack of sight, a nod to Luke's history as an illegal prison cage fighter of sorts, Danny meditating (of course), and Jessica tossing some much-deserved shade towards Danny and his building. Oddly enough, Matt Murdock, aka Daredevil, is featured twice — which may or may not make sense, considering he's the only Defender to have already gotten two seasons under his belt.
Check out the Twitter GIFs here:
Matt arrives at the 13th floor of Rand Enterprises, which astute fans will remember as the floor primarily occupied by The Hand in Episode 7 of Iron Fist: "Felling Tree With Roots." We don't think he's there to make friends with anybody.
Jessica rightly suggests that Rand Enterprises needs a bar in its lobby while reading an issue of New York Bulletin, perhaps an article written specifically by Karen Page? The cover page reads "Wrong Side of the Tracks," which could mean just about anything.
But if it's a bar Jessica wants, she ought to try Josie's.
These snippets are really starting to sell the subtle playful animosity between Danny's boyish personality and Jessica's no-nonsense demeanor. Seeing Danny meditating outside the front of Jessica's office, Alias Investigations, is a fun nod.
In the second GIF featuring Daredevil's Matt Murdock, he's apparently a "longtime listener" of Trish Talk, the radio talk show featuring Jessica's adoptive sister. And, to Matt's right as he waits for the bus is a poster featuring Stan Lee as police chief.
The final is a bold challenge from Luke Cage, who apparently wants to go a few rounds with Daredevil on Matt's training turf: Fogwell's Gym. We hate to break it to Matt, but we're not sure he'd be able to defeat Luke one-on-one.
The Defenders drops on Netflix on August 18, 2017.