Apple's Expensive, Easily Lost AirPods Are Actually Wildly Popular
Remember those wireless headphones we all made fun of? Yeah, people loooove those.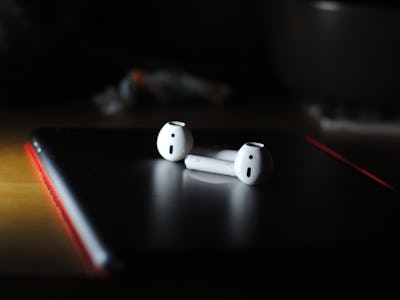 Flickr / mr.g2003
Apple's AirPods — cordless in-ear headphones that stay in during rough sex — are so laughably easy to lose that the company released a "Find my AirPods" tool. And yet those downsides, along with a $159 price tagged to the little things, hasn't been enough to deter people from buying and enjoying AirPods. Yes, the "courage" required of Apple to develop them has paid off.
A survey published this week by marketing firm Creative Strategies shows a wildly high 98 percent customer satisfaction among AirPod owners. It's a new high for an Apple product.
Even the iPhone itself, which was released in 2007 and went on to become one of the most influential devices of all time only achieved a 92 percent customer satisfaction. The iPad in 2010 also achieved 92 percent, and the Apple Watch in 2015 peaked at 97 percent.
The new survey doesn't compare AirPod and Apple customer satisfaction to other companies, or even to other new Apple products. But it does gauge how likely people would recommend AirPods to others — and the headphones scored an average rating of 7.5 out 10 (0 being "not likely at all," 10 being "extremely likely").
Survey participants gave high marks for features like time to charge, the exterior design of the case, the Bluetooth pairing process (aided by the company's W1 chip to allow for quick syncing with other Apple devices), battery life, and comfort. Secure fit — the biggest concern preluding the release of the headphones — managed to garner a 93 percent satisfaction rate.
It's kind of strange to see an Apple accessory beat out other marquee company products when it comes to customer satisfaction, but it's pretty likely most AirPod owners who bought the new headphones are enthusiastic about Apple products anyways.
Regardless, the AirPods have been part of a concerted effort among Apple to ditch older forms of technology features in order to allow its phones and tablets to be built slimmer, with an emphasis on total wireless functionality. That's a hard bargain to sell, but Apple is far from a stranger to this game.