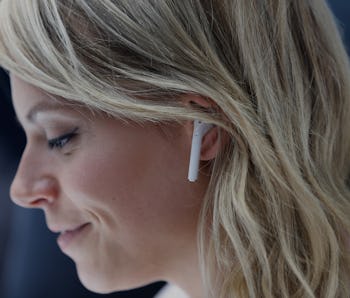 Innovation
Apple's Offering a "Find My AirPods" Function, Thank Goodness
Everyone is going to be losing those things all of the time.
Getty Images / Stephen Lam
Apple's new wireless headphones, AirPods, are technological marvels. They also seem like they're going to be super easy to lose. Since it's going to cost $69 to replace one lost AirPod, keeping track of these danged things is going to be important. Although they supposedly will stay stuck in your earholes even during "rough, aggressive sex," people are going to find a way to misplace them. That's where the "Find my AirPods" function, a new feature that's being added to Apple's "Find my iPhone" iOS app, comes in.
The new function isn't out yet — Apple just revealed the update as part of a preview that only a select few developers saw, according to CNBC. However, from reports, we gather that "Find my AirPods" works in a couple different ways. The app can show where an AirPod was last connected on a map (assuming it's charged, of course), or it can also make the missing AirPod emit a chirping sound so it's easier to track down, if it's in Bluetooth range. Gizmodo reports that the app doesn't quite pinpoint a missing AirPod's location, but offers broad information — think an address or street intersection. This, probably, is not super helpful if you've dropped an AirPod between couch cushions.
For all its possible flaws and shortcomings, "Find my AirPods" seems like it'll probably help a few people out of a jam and maybe save them $69 (nice). The only thing better than "Find my AirPods" might be, I don't know, perhaps some sort of cord that connected the earbuds to one another and tethered them to your phone? Just a thought.