It'll Cost $69 to Replace a Lost AirPod
You might as well budget for it now.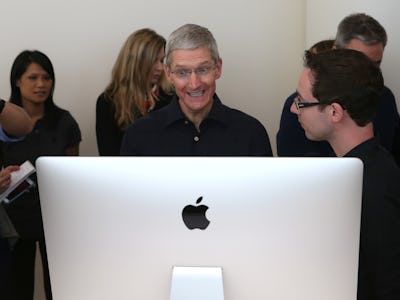 Getty Images / Justin Sullivan
It took four months for Apple to release the AirPods that were supposed to debut shortly after the iPhone 7. But it's probably only going to take a few hours for people to start losing the wireless earbuds or their charging case when they finally ship — and Apple has already updated the support pages on its website to prepare for this inevitability.
AirPods come with a limited one-year warranty that covers the earbuds and their wireless charging case for defective batteries — something iPhone 6s owners might be familiar with — but everything else has to be paid for out of pocket. It costs $49 for in-warranty battery service; $69 to fix a battery after the one-year warranty ends; and $69 to replace a lost AirPod or charging case.
If you've quickly done the math, you know that two replacement Airpods will cost less than half of the $159 price of the full product. Apple doesn't explain how to request this service on the support page, but searching the general support site for "lost or missing AirPods" or "lost or missing AirPods case" should get you where you need to be.
Don't think about trying to use this to get a discount on AirPods, though. Apple requires people to either sign in with an Apple ID to which the product has been registered or enter their device's serial number to request any service. But, more to the point, you'd actually end up spending more ($207 before taxes and shipping fees) to buy the individual AirPods and the charging case in this way.
Bargain hunters are better off looking to other wireless headphones or earbuds. The "courage" to use wireless audio doesn't do much good if you lose a $69 earbud on the bus or drop it down a subway grate.
AirPods finally debuted on December 13 and were supposed to ship by December 21 — just in time to be given away as holiday gifts. Apple now says it will take six weeks for new orders to deliver, however, so we're back to waiting for the company's prescient-or-hubristic decision to nix the iPhone 7's headphone jack to work out.