People Are Getting New iPhone 6s Batteries From Apple
If your 6s is randomly dying, read on.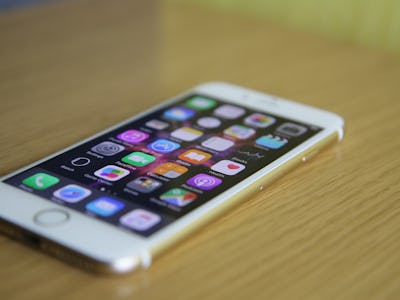 Flickr / portalgda
Apple made a mistake in manufacturing the iPhone 6s, and now it's set up a battery replacement program to help those affected by the issue. This will make it much easier for people whose iPhones die without warning to get a new battery installed that (one would hope) won't have the same problem.
Samsung's well-documented struggle to respond to exploding batteries in the Galaxy Note 7 might have you worried — don't be. Apple said that the iPhone 6s battery problem merely leads to devices that unexpectedly turn off. If that sounds like your phone, and the winter cold isn't to blame, you'll want to at least look into this program. Here's how.
Back up your phone's data
Your first response to any problem with your phone should be to back up the data stored on it. This has become easier thanks to the rise in popularity of cloud services, but for anyone who doesn't use those tools or wants extra peace of mind, it's good to get into the habit of backing up critical information. And if there is a problem with your phone's battery, this will also save you the trouble of having to create a backup when you hand over your phone to Apple.
Check your device's serial number
Only iPhone 6s models made between September and October 2015 have been affected by this problem. If you head to an Apple store or visit one of the company's approved technicians, the first thing they'll do is check your serial number. You can do the same by going to Settings > General > About and scrolling to the Serial Number section. Then compare the result to this list from 9to5Mac:
Q3
Q4
Q5
Q6
Q7
Q9
QC
QD
QF
QG
QH
QJ
Make an appointment
If you find those characters in the fourth and fifth positions of your Serial Number, your device could be affected by this problem. This means you should find the nearest Apple service provider or retail store to address the issue. But don't just walk in; make an appointment to make sure you can get in and out.
Have a backup phone
9to5Mac reports that many Apple Stores will have limited supplies of replacement batteries and will need to send devices in for repair. This can take a while, so in the meantime, you should try to find some kind of backup phone. An older smartphone does the trick but it might also be worth looking into a disposable phone. Either way, make sure that phone has all of your important information so you won't miss anything while your primary device is gone.
Erase your phone's data
Apple recommends deleting information from your device before handing it over to technicians. This is sound advice: You never know when someone might abuse their access to your phone to view personal info, steal photos, or otherwise invade your privacy. Since you backed up your data you can safely delete your information by turning off Find My iPhone and going to Settings > General > Reset > Erase all Content and Settings.
Turn it over and wait
Now you and your phone are ready to spend some time apart. Go to your appointment, let them run tests to make sure your iPhone really has been affected by this manufacturing issue, then head out with your backup phone. Soon your "real" phone will be back with a new battery that won't die all the time, and you can count the days until we get new super durable batteries made out of diamonds.