5 Alternatives to Apple AirPods, Which Are Mysteriously Absent
You've waited long enough.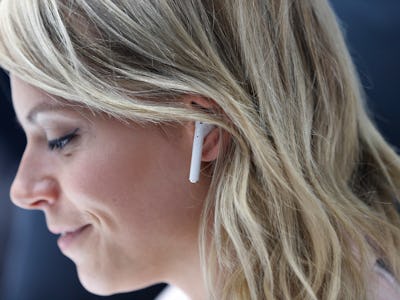 Getty Images / Stephen Lam
Apple made a deal with consumers when it announced the iPhone 7: In exchange for killing the headphone jack, its AirPods would nudge the world to wireless audio by fixing many of the problems its predecessors had. Those earbuds were supposed to be released in October. Yet here we are now, in December, and they've yet to grace our eardrums with their (probably) dulcet tones.
So when are they supposed to debut? It's not clear. Some rumors claim they'll arrive in January. Others said they were supposed to ship this month. What is clear, though, is that iPhone 7 owners who want to use something other than the EarPods (not to be confused with the AirPods) that came with their device need to find something to hold them over. Here are some of the best options.
JLab Epic2 Wireless Sport Earbuds
The JLab Epic2 Wireless Sport Earbuds ($100) offer the best quality to price ratio among different wireless headphones. The sound is decent, the headphones include a large variety of covers to fit different ears, and the Bluetooth connection is reliable. These headphones are also water resistant, so it's safe to wear them in the rain (or in the shower) without worry.
Plantronics BackBeat Pro 2
Not everybody wants to cram something into their ear canal. Plantronics BackBeat Pro 2 ($200) has you and your ears covered. The set promises 24-hour battery life, automatically pauses music when it's removed from your head, and uses active noise cancelling to make sure ambient sounds don't bug you when you're trying to listen to something.
Jaybird Freedom
Jaybird Freedom ($180) is supposed to be the smallest pair of in-ear headphones on the market. The earbuds use an over-under system to stay on, can receive audio from two devices at the same time, and use a mobile app to let people fine-tune their experience. They're also in the middle of the price range between the Epic2 and the others on this list.
Bose QuietComfort 35 wireless headphones
But there isn't anything wrong with splurging, and that's what Bose wants you to do with the QuietComfort 35 ($350). Bose's noise cancellation is some of the best in the industry, so you don't have to worry about what's happening around you, and they're also comfortable. Plus a 15-minute charge provides enough power for roughly 2.5 hours of playback.
Samsung Gear IconX
Here's the problem with the AirPods delay: One of the most divisive things about the product is the fact that it's truly wireless. You don't have something hitting the back of your neck when you go for a jog, or messing up your hair on your walk to work. (Or, you know, making sure half of a $160 gadget doesn't fall down a sewer grate.) Samsung Gear IconX ($180) makes the same promises and also has 4GB of storage, so you don't even have to connect it to a phone when you want to listen to some music.