Shia LaBeouf's Art Installation Shut Down Following Arrests and Threats of Violence
It was intended to last through Trump's presidency.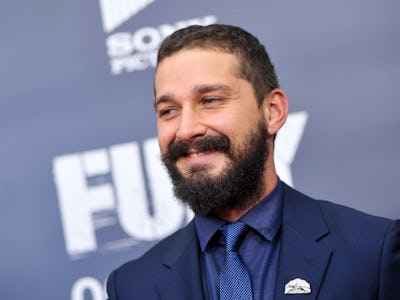 Getty Images / Kris Connor
The Museum of the Moving Image announced on Friday that it would be shutting down it's HE WILL NOT DIVIDE US exhibit, citing multiple scuffles and confrontations that occurred between participants and agitators at the site.
The brainchild of actor Shia LaBeouf, the installation — which consists of a 24/7 webcam into which anyone can participate in chants against President Donald Trump — first caught people's attention after LaBeouf shouted down a white supremacist who was trying to interfere with the exhibit. LaBeouf got in the man's face and a brief shouting match ensued until a security guard broke things up and kicked out the interloper.
Although that first incident ended nonviolently, another occurred just a few days later which resulted in LaBeouf's arrest. In this incident, he was accused of pushing and scratching a professed Hitler supporter who showed up to troll the installation. LaBeouf was released the next morning without charges, but it was becoming clear that his artwork was now a target of alt-right interference.
In a press release put out on Friday, the museum said that "over the course of the installation, there have been dozens of threats of violence and numerous arrests, such that police felt compelled to be stationed outside the installation 24 hours a day, seven days a week." For the "safety 200,000 annual visitors and 50,000 school children attending programs at the Museum," the decision was made to shut down HE WILL NOT DIVIDE US.
Still, the museum says, it was "proud to have launched this engaging and thought-provoking digital art installation which was experienced by millions of online viewers worldwide."
LaBeouf himself has not yet commented on the termination of his installation, which was originally supposed to run for four years — or eight, should Trump win a second term — but Luke Turner, one of LaBeouf's exhibit partners, did put out a disappointed tweet on Friday morning. He indicated that, although the museum might be done with the exhibit, there may still be more to come.
Support for the installation also manifested on Twitter after the museum's decision was made known.
It's unclear what, if anything, the artists have in store, but whatever it is looks like it will retain a following.