Shia LaBeouf Launches a Four-Year-Long Anti-Trump Live Stream
Jaden Smith has already joined in.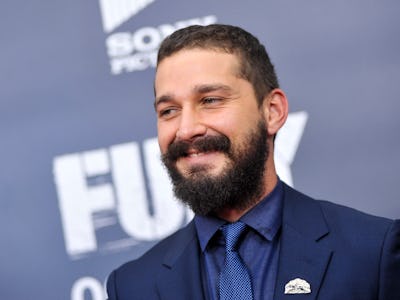 Getty Images / Kris Connor
Disney Channel Star turned contemporary art virtuoso Shia LaBeouf's next target is President Donald Trump — and he's willing to fight that battle for four whole years, 24 hours a day. The 30-year-old artist just unveiled HE WILL NOT DIVIDE US, a four-year performance art installation at the Museum of the Moving Image in New York City to protest Trump's term as president.
At the museum is a wall with the words "HE WILL NOT DIVIDE US" and a camera supplying a live stream of people congregating at the spot to repeat those five little words, "he will not divide us," for as long as they wish. The project was launched on Friday morning at 9 a.m. Eastern, just as Trump's Inauguration ceremony was kicking off.
The website explains that the slogan is meant to act as a "show of resistance or insistence, opposition or optimism, guided by the spirit of each individual participant and the community." Throughout Friday morning, there's been a sparse crowd, even when Jaden Smith showed up to hang out in front of the camera.
Four years sounds like a long time for an art project (and a Trump administration), but LaBeouf is no stranger to extended stunts. Back in February 2016, he rode an elevator in Oxford, England for 24 hours straight. And the year before that he watched every single movie he's been in in New York's Angelika Film Center and live-streamed himself watching the marathon.
Viewers of the live stream can't see what participants like Smith can see, but this is what they're facing.
It looks like the Beef foreshadowed the performance installation earlier this week, cryptically tweeting a simple "HE WILL NOT DIVIDE US."
While it appears that people are using the live stream for its intended purpose, it's quite possible that eventually others will end up doing things other than chanting "he will not divide us" in front of the camera.
LaBeouf isn't the only celeb to speak out against Trump. A whole group of musical artists such as Death Cab For Cutie and Aimee Mann banded together for their anti-Trump project "30 Days, 30 Songs." And Meryl Streep used her speech at the 2017 Golden Globes to speak out against the Cheeto-encrusted man taking over the White House.
You can watch the HE WILL NOT DIVIDE US live stream on the project's website. As of publication, Jaden Smith is still there going hard.