Shia LaBeouf Shuts Down White Supremacist During Anti-Trump Live Stream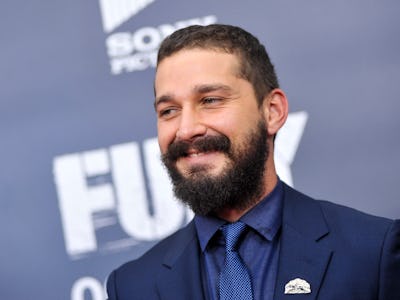 Getty Images / Kris Connor
Actor and unorthodox artist Shia LaBeouf caught people's attention last week after launching his new art installation, HE WILL NOT DIVIDE US. Over the weekend the exhibit was visited by a white supremacist who attempted to derail the proceedings by shouting racist phrases amid a crowd of protesters. Luckily — or unluckily for this individual — LaBeouf was on-site and was not pleased.
LaBeouf's installation, located at the Museum of the Moving Image in New York City, consists of a live webcam that will be kept running for the entirety of Donald Trump's presidency. Visitors can yell "HE WILL NOT DIVIDE US" as much and as loudly as they want into the camera, which streams on the project's website. The unwelcome visitor took it upon himself to approach the camera and say, "We must preserve the existence of white people!"
The 30-year-old actor then immediately appeared onscreen and began shouting his exhibit's slogan into the face of the white supremacist, sparking a brief showdown between the two men as they chanted opposing mantras. The exchange ended nonviolently when a security guard showed up to boot the racist interloper.
The rest of the protestors in the background appeared content to let LaBeouf take charge in defending his installation, but kept up the chant with him as he drove the white supremacist away. It made for a strange but fitting testament to the intention of LaBeouf's message.
It's unclear what the individual was attempting to accomplish — besides generally being a troll — but people on Twitter has seen to it that his efforts largely backfired, with an outpouring of support for LaBeouf and his actions.
This early example might serve as a lesson to anyone with similar designs of interfering with the webcam. LaBeouf is passionate and he's not afraid to get in the ring to defend his work. And it looks like he's earned some new fans in the process.
Find out more about HE WILL NOT DIVIDE US here.