Shia LaBeouf Watches His Own Movies, Eats Pizza During 'Holes'
Domino's pepperoni refuels LaBeouf during his three-day performance, '#ALLMYMOVIES.'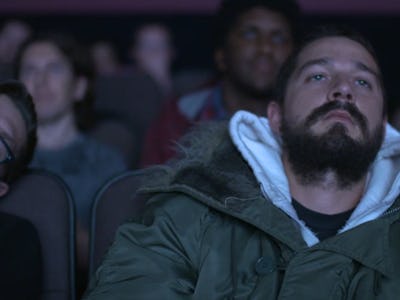 LaBeouf, Rönkkö & Turner/#ALLMYMOVIES
Shia LaBeouf is two days deep into his marathon to watch all of his own movies in reverse-chronological order. It's an art performance and it's called #ALLMYMOVIES. He's currently watching 2003's Holes, which started at 11:50 a.m.
During the showing, LaBeouf remarkably obtains a Domino's pepperoni pizza (sent by this person):
But he doesn't just admire the pizza. He eats the damn thing. Eats the whole damn thing:
LaBeouf isn't selfish, though. He shares it with other crowd members, including his seat neighbor to his right:
He got interrupted a couple times. Here he is settling back into his seat after a person in a New York University sweatshirt rudely interrupts his viewing experience:
This morning was when LaBeouf started getting to the good stuff. Yes, 2004's I, Robot was on at 3:45 a.m on Thursday, November 12; 2003's The Even Stevens Movie was on at 10:20 a.m.. Both preceded Holes.
LaBeouf isn't supposed to sleep during his performance, so he's in pretty rough shape. Fortunately, he slumbered during 2007's Surf's Up, presumably preparing himself to watch Disturbia.
He's since stayed up for the most part. And, like the general public, he seems to like his early movies the best. Watch him geek out during The Even Stevens Movie. He goes through a true range of emotion: joy, embarrassment, fatigue, and ultimately some presumably existential sadness.
The Even Stevens Movie is a wild ride. It's not coincidence that LaBeouf reacted so strongly.
LaBeouf's performance ends at 6:53 p.m. today after Nausicaä of the Valley of the Wind. He wasn't in the original, as it's a Japanese movie from 1984 — two years before he was born — but he voice acted in the 2005 Disney remake.