Shia Labeouf Is Watching Every Film He's Ever Made
You can join him. It's free and open to the public. He's really there.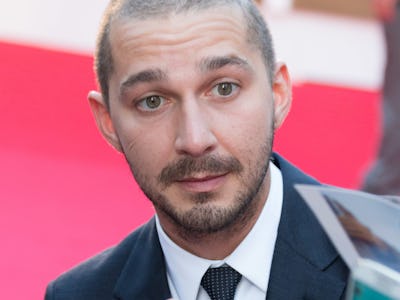 Tabercil / Flickr Creative Commons
Actor Shia LaBeouf is publically watching every film in which he has starred, and you can join him if you'd like.
Which LaBeouf movie is your personal favorite? Fury? Transformers? A Guide to Recognizing Your Saints, perhaps? Heck, even if it's Dumb and Dumberer: When Harry Met Lloyd, you can go see your choice — or all of his films — for free at New York City's Angelika Film Center.
Right now.
And he'll be there, too.
Mr. LaBeouf is participating in an art installation called #ALLMYMOVIES, a round-the-clock, open-to-the-public event that started on Tuesday and will continue until he has sat through every film he has ever made.
Entertainment Weekly writer Ariana Bacle has already posted an article describing her first-hand experience, as she managed to sit next to him during the screening of the first film, Man Down.
According to Bacle, "I entertained the idea of reaching into the bag of popcorn he'd been noshing on and grabbing some for myself…Then I realized I had, like the group behind me, momentarily ignored that LaBeouf is real."
The format offers 10 minute intermissions between movies, and Bacle writes that she tried to shake his hand during a break "thinking it could launch a conversation. It didn't, though he did shake my hand and look me in the eye. He had a similar response when some fans approached to compliment his work, only solemnly glancing up at them in silence."
Admission is free, but no worries if you can't make it but really want to see how Shia's faring while sticking out being trapped within his own personal film festival, as a livestream is available at newhive.com/allmymovies.