Elon Musk Praises American Justice System as Best in the World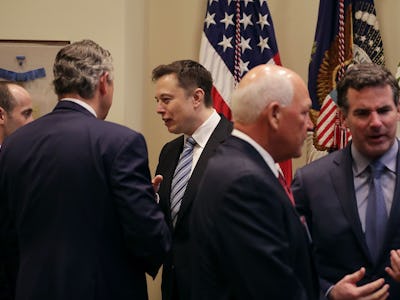 Getty Images / Chip Somodevilla
In a Sunday morning tweet, SpaceX and Tesla CEO Elon Musk praised the United States' justice system. "Many in America don't realize how proud they should be of the legal system," says Musk. "Not perfect, but nowhere is the cause of justice better served." This statement comes on the heels of a week in which the tech billionaire has been in the hot seat for his role on President Donald J. Trump's economic policy panel. The panel met Friday to discuss taxes, trade, the future of tech jobs, and other topics relevant to U.S. businesses.
With Trump's Muslim travel ban in the forefront of many Americans' minds, Musk says he made sure it was a topic of discussion, and he even solicited input from his Twitter followers on the matter. Musk isn't the only one who's been drawing criticism for sitting on the panel. Uber CEO Travis Kalanick resigned from the panel in the wake of negative customer feedback to the company's response to protests against the immigration ban at JFK Airport.
Musk, on the other hand, has stated publicly that he disagrees with some of the president's policies but plans to remain on the panel. His Sunday tweet displays his faith in the ability of people to work within the system. And while he's been measured in his criticisms of the current administration, some see his faith as myopic. People have taken the opportunity to point out the irony that Musk made this announcement on what would have been Trayvon Martin's 22nd birthday, had he not been killed by George Zimmerman, who was acquitted of murder charges.
As is the nature of being a public figure on the internet, Musk has drawn a wide range of criticism and praise for his statement. Some have been more empirically based than others.
And in classic Twitter fashion, some criticisms seem to be based less on Musk's actual views and more on a person's … unique interpretation of them.
Despite his initial statement, Musk claims to not be interested in talking about politics.
And while Musk has been criticized for collaborating with a troubled administration, he maintains that his presence on Trump's economic policy panel is better than the alternative.
After three hours of responding to his followers' questions, compliments, and criticisms, Musk finally tore himself away from Twitter.