Elon Musk Tweets That He Isn't Quitting Trump's Advisory Council
He wants to help the president make humans a "multi-planet civilization."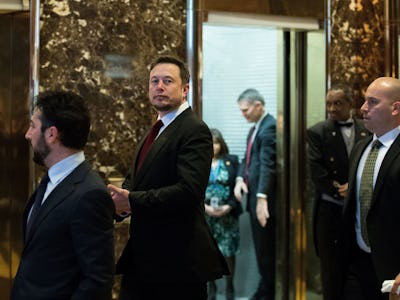 Getty Images / Drew Angerer
Just a few hours after Uber CEO Travis Kalanick announced that he would be leaving President Donald Trump's business advisory council, Elon Musk tweeted that he would not be quitting. The Tesla CEO says he doesn't agree with all of Trump's policies, but he really wants to help the president "make humanity a multi-planet civilization."
Musk, who probably felt the need to clarify his position after Kalanick faced lots of criticism via the #DeleteUber boycott for his seemingly tacit support of Trump's Muslim ban, wrote that he does not agree with the controversial executive order.
"In December, I agreed to join the Presidential Advisory Forum to provide feedback on issues that I think are important for our country and the world," he wrote. "In tomorrow's meeting, I and others will express our objections to the recent executive order on immigration and offer suggestions for changes to the policy."
Musk's earlier statements on Trump's widely criticized policy were understated, to say the least.
The SpaceX head honcho says that he wants to use his position on the council to help steer Trump in the right direction and advance lofty goals like sustainable energy and space colonization.
"I understand the perspective of those who object to my attending this meeting, but I believe at this time that engaging on critical issues will on balance serve the greater good," Musk wrote.
Musk actually tweeted out his statement twice. His initial, now-deleted tweet misspelled "White House" as "Whitehouse."