Uber's Response to the NYC Taxi Strike Made Users #DeleteUber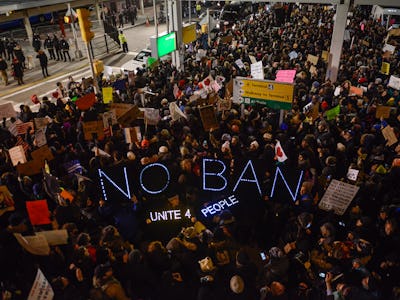 Getty Images / Stephanie Keith
Ride-sharing app Uber may be poised to lose a significant number of customers this weekend following what many see as a move to undermine a civil liberties protest. On Saturday, crowds gathered at John F. Kennedy Airport in New York City to protest the detention of two Iraqi refugees. The incident followed President Donald J. Trump's executive order, signed on Friday, that imposed an immigration ban on nationals from seven Muslim-majority countries.
The NY Taxi Workers Alliance issued a statement on its Facebook page calling for drivers to strike and refuse to take passengers to JFK airport. "By sanctioning bigotry with his unconstitutional and inhumane executive order banning Muslim refugees from seven countries," reads the statement, "the president is putting professional drivers in more danger than they have been in any time since 9/11 when hate crimes against immigrants skyrocketed."
In what many users saw as an opportunistic response to the taxi strike, Uber announced that it had turned off its surge pricing at JFK Airport, making rates much cheaper. In response, Twitter rang out with protests against the transportation company, resulting in the hashtag #DeleteUber.
This resulted in a storm of responses on Twitter, accompanying the protests happening in physical space at JFK Airport.
As the online protest grew, people began instructing each other to delete their accounts, not just the app, and explain to the company why they were doing so. Some users opted to express their frustration in colorful language.
Uber co-founder and CEO Travis Kalanick, who sits on Trump's economic advisory group, posted a letter to Uber staff on his Facebook wall expressing concern over the Muslim ban and offering to help those drivers who would be directly affected by it. He did not, however, address the controversy over the New York surge price suspension.
Amid the protests in New York and at major airports all around the country, the American Civil Liberties Union filed a lawsuit on behalf of the detained travelers in New York on Saturday, and the refugees were eventually released. Uber competitor Lyft announced via an email to customers that it would be donating $1,000,000 to the ACLU in response to Trump's executive order.
On Sunday, the Department of Homeland Security released a response to the ACLU litigation. In the statement, the DHS made it clear that the ban would remain in place as planned, and that visas could be revoked at any time. It also suggested that the detained refugees represented an insignificant number of travelers, saying, "Yesterday, less than one percent of the more than 325,000 international air travelers who arrive every day were inconvenienced while enhanced security measures were implemented."
Five hours after Uber NYC's initial tweet, the account issued a sort of clarification, possibly in response to the outcry surrounding the company suspending surge pricing. The tweet also linked to Kalanick's statement on the travel ban.
Users who cited the strike when deleting their Uber accounts have received responses like the one below, in which Uber says it was not trying to break the strike but simply let protestors know they could take an Uber home:
It's not clear yet how many users Uber lost, or how many people simply deleted the app without deleting their account. In the meantime, the NY Taxi Workers Alliance announced plans to protest the Muslim ban on Sunday: