Uber Agrees to Cap Surge Pricing in Delhi, but What About the U.S.?!
No luck closer to home so far.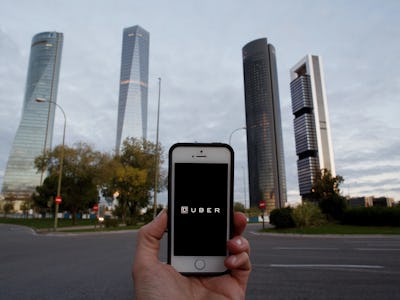 Getty Images
Surge pricing may still be the bane of your existence around these parts, but in Delhi, at least, things are looking up. It seems Uber just agreed to put a cap on its fares and stick to rates established by the government.
The government in Delhi has apparently been playing with the idea of capping surge pricing for a while; limits were imposed a month ago during a period of experimental traffic restriction.
Closer to home, a push to limit surge pricing by Uber and Lyft (and whatever other ride-sharing companies are out there) failed in California a few weeks ago in a Senate committee. The bill in question came from State Senator Bill Hueso, who also sought to strengthen the requisite background checks on drivers for such companies. Hueso has a long history of challenging ride-sharing companies' policies.
Of course, as U.S. and global lawmakers try to fight surge pricing, Uber is working to find the best way to get rid of it itself. Jeff Schneider, a leading technologist in the company's Advanced Technology Center, told NPR this month that Uber hopes to use A.I. to predict demand, rendering obsolete the unpopular increase in fares it uses to draw out more drivers on the fly. "The idea is if you can predict that demand, you get that information out there and you get that supply there ready for the demand so the surge pricing never even has to happen," said Schneider.
But for now, at least Delhi-based Uber seems to have caved on its current surge pricing model. In a letter to the Transport Commissioner, Gagan Bhatia, the general manager for North-Uber India, said Uber would abide by the new rules.
"With prejudice to all our rights and contentions, we would like to humbly submit that the per kilometer fare charged on the Uber platform within Delhi will not exceed the government prescribed fare applicable in Delhi," Bhatia wrote. "We remain committed towards providing a reliable and affordable transportation service to the people of Delhi and thank you (Transport commissioner) for your all efforts in this direction."
While we're on the subject, Uber in its infinite wisdom has also just determined exactly when you're most likely to accept surge pricing – it's when your phone is about to die. Apparently, in the weakened and vulnerable state that accompanies seeing the battery icon on our phones turn red, we instinctively panic a little about how exactly we'll get home, and thus are way more inclined to accept the higher fare.
If these surge prices do result in us Americans getting home quicker to charge our phones, then maybe they should stay for good.