Elon Musk Asks Public to Suggest Amendments to Trump's Refugee Ban
The SpaceX CEO said he would take them to the President's advisory council.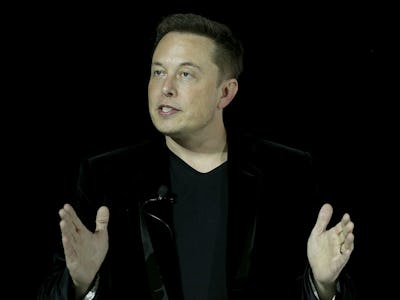 Getty Images / Justin Sullivan
In an unprecedented moment on Sunday afternoon, Elon Musk took to Twitter to ask the public for specific amendments to President Donald J. Trump's executive order banning refugees from seven Muslim-majority countries from entering the United States. The founder and CEO of SpaceX and Tesla linked to the full text of the executive order, asked his followers to read it, and said he'll present people's specific recommendations to the president's advisory council, and then hopefully to the president.
Musk, who sits on the president's economic advisory board, has offered minor criticisms of Trump, both before and after the election. He's generally proceeded with caution when doing so, and for that he's drawn a combination of praise and rebuke. But with this move, it appears that his decision to remain relatively soft-spoken on his disagreements with Trump's policies could be paying off, if he can use his carefully guarded access to the leader of the free world to present these suggested amendments to the Strategic and Policy Forum to change policy.
The Trump administration has operated with seeming indifference to public outcry over the slew of executive orders the president signed during his first week in office, so Musk's followers have jumped at the opportunity to contribute. It's unclear exactly how he'll use these recommendations, though.
So even as people begin making suggestions — which are, predictably, wildly varying in their levels of feasibility and helpfulness — people's skepticism remains at the forefront in the ongoing discussion.
Amid specific recommendations for minor tweaks, suggestions to remove the amendment outright have proven popular, along with calls for Musk to resign from the panel. Some have wondered whether specific recommendations will fall on deaf ears in the White House.
Inverse will continue to cover this situation as it develops.