What is Elon Musk Telling Steve Bannon in This Photo? A Few Guesses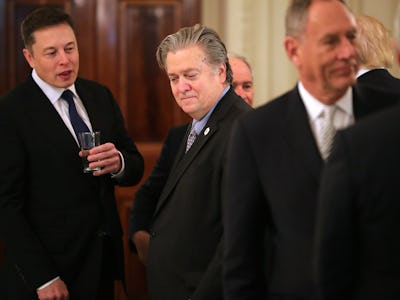 Getty Images / Chip Somodevilla
Tesla CEO Elon Musk was at the White House on Friday in his capacity as a member of a presidential advisory council headed up by former Trump Steaks owner Donald Trump.
Also at the meeting: Steve Bannon, who's become a fixture at the White House as an adviser to Trump. Bannon — who looks like "if Michael Shannon did a Super-Size-Me where he only ate cigarettes" — has been a vocal critic of Tesla, mostly through his website Breitbart.
Was Musk telling him that no, Tesla's first quarterly profit in three years wasn't a result of California state tax credits, contrary to a Breitbart headline that claimed as such back in October? Maybe Musk was correcting a claim made by Breitbart that Tesla doesn't make reliable automobiles.
Also, Bannon is a white supremacist and is extremely anti-immigration, which presents a problem for Musk, who's an immigrant himself and who on Thursday night said he disagrees with Trump's travel ban, which is effectively a Muslim ban. Stoking anti-immigration and anti-Muslim rhetoric is Bannon's bread-and-butter, to say nothing of Breitbart's sharply critical Tesla coverage. There's a lot for these two to chop up.
That history makes this tête-à-tête between the South African and Virginian on Friday all the more interesting. But what is Musk saying to Bannon here?
It looks like Musk is taking him to task on something, but if the photos are to be believed, the CEO didn't go to war in Washington as many had hoped. He looks downright placid in other photos, as Trump bloviates. Meanwhile, the calls to boycott Tesla have begun once more.
Bannon and Musk also met back in January, before the inauguration of the Art of the Deal author to the nation's highest office. We don't know what they talked about, though.
The regular "listening sessions" include corporate leaders like JPMorgan Chase's Jamie Dimon, General Motors' Mary Barra, IBM's Ginni Rometty, Wal-Mart's Doug McMillon, Ford's Mark Fields, and Marillyn Hewson of Lockheed Martin, among others. Not present on Friday was Uber CEO Travis Kalanick, who's email to employees on Thursday let them know that he was resigning over a "misinterpretation" of his role.
Hopefully, Musk will fill us in on how it went. Last night he wrote, "In tomorrow's meeting, I and others will express our objections to the recent executive order on immigration and offer suggestions for changes to the policy."