The 7 Best Netflix Shows Coming in 2017 
From 'The Defenders' to 'A Series of Unfortunate Events' to a new Jason Momoa vehicle.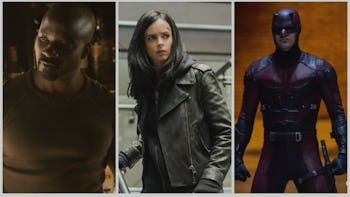 Netflix 
2017 will be a year full of uncertainty in the real world — thanks to an impending Trump presidency, Brexit, and assorted unrest — which means that fiction will be all the more important. Luckily, Netflix is stepping up with a host of intriguing new scripted series. Although old favorites like Wet Hot American Summer and Stranger Things will also be returning, here are some shiny, new shows to keep an eye out for.
7. Iron Fist
The latest addition to Netflix's Marvel shows looks like it might be its most underwhelming, thanks to an unwillingness to acknowledge the story's Asian roots. Nevertheless, it will ensure that the important question of representation in superhero stories remains in the spotlight post Doctor Strange. Plus, Netflix hasn't struck out with a Marvel show yet, and Finn Jones was an engaging presence on Game of Thrones. Perhaps it will pack some surprises.
Premiere date: March 17.
6. Gypsy
Gypsy will be a psychological drama starring Naomi Watts and Billy Crudup, with episodes directed by Sam Taylor-Johnson who did Fifty Shades of Grey. On the surface, that does not sound great. But Naomi Watts is excellent in tense, psychological material — see Eastern Promises. And Fifty Shades aside, Taylor-Johnson is an innovative director. Here's a clip from one of her earlier films about young John Lennon:
Premiere date: TBD in 2017.
5. Bill Nye Saves the World
Although this show is not fiction, Bill Nye the Science Guy is getting a talk show. There has never been a more fitting time for a pleasantly cheerful scientist to explain what the hell is going on.
Premiere date: TBD in 2017.
4. Frontier
Frontier is a period drama about 18th century fur trade, and clashes between Europeans and Native Americans. It looks like a mix between The Revenant, Black Sails, and Peaky Blinders, is topical even as it dips into the past, and stars Jason Momoa, to boot. This one isn't to be missed.
Premiere date: January 20.
3. A Series of Unfortunate Events
Lemony Snicket's A Series of Unfortunate Events is a wickedly clever series that straddles the line between children and adult entertainment — soundly making the case for there being no such thing. Every element of it lives outside the box, from its vaguely steampunk version of reality, to its tone that oscillates between amusing and disturbing. In a world jam-packed with television shows that often tread the same ground, this one has the chance to be utterly unique. Although its ill-fated 2004 movie did not do the story justice, the show looks promising.
Premiere date: January 13. Which is a Friday. Because of course.
2. Dear White People
Dear White People was a movie that put a spotlight on racial divides in a manner that was important, funny, and thoughtful. Although the Netflix show will mix up the movie's cast, a television show will give it more room to feature Black voices, faces, and experiences in a way that's all too rare. Although Insecure and Power have added much needed diversity to the television landscape, there could always be more. A trailer has not yet been released for the series, but here's the trailer for the film:
Premiere date: TBD in 2017.
1. The Defenders
Of course The Defenders has to be #1. It will be as epic in scope as The Avengers and yet, with Jessica Jones and Luke Cage in lead roles, it will be far more diverse. Jessica Jones will not be content to pose on the sidelines in skintight leather a la Black Widow, and Luke Cage has already made superhero adaptations a lot smarter. Audiences have been asking for diversity in superhero stories for a long time now, and The Defenders will finally deliver. Best of all, even the kinds of audiences who don't ask for diversity will watch, and a clash between the audience and the show is always fascinating.
Premiere date: TBD in 2017.