Obama Makes Final Push for Global Cooperation on Clean Power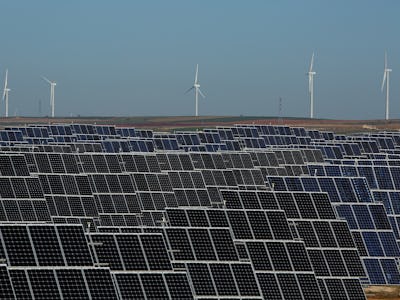 Getty Images / Pablo Blazquez Dominguez
United States President Barack Obama made a series of new commitments to promote global investment in alternative energy on Monday, signaling his desire to build as much momentum on clean power as possible before handing the keys to the administration to President-elect Donald Trump.
The keystone of the announcement is $125 million in investments in solar power projects for El Salvador and India. The administration also promised $36 million to be awarded to winners of a competition to provide household solar power to 20 million homes in sub-Saharan Africa. These commitments are the product of international partnerships and programs geared to spur investments in alternative power worldwide, and combat global climate change.
Trump has said in the past that climate change is a hoax, and over the course of his campaign for the presidency he vowed to remove the United States from the Paris Agreement on global climate change action, now signed by almost 200 countries. A top contender to lead the Environmental Protection Agency is a high profile climate change denier, and Trump's shiny new .gov website promises to scrap both the Climate Action Plan and the Clean Power Plan.
Obama has made promoting clean energy and fighting climate change central tenets of his presidency, and he's clearly planning to only ramp up actions before his term ends. "[We will] make sure we finish what we started, that we don't let up in these last couple months because my goal is that on January 20, America is in the strongest position possible," he said Monday, at his first news conference since the election.
It's unclear to what extent Trump will be motivated to burn international bridges by backing out of cooperation on clean energy programs, but it is clear that Obama plans to hold his feet to the fire by making commitments that will take the incoming president well into his first term. The Department of Energy will sign a memorandum of understanding tomorrow with the government of Morocco committing the countries to jointly host a Solar Decathlon in Morocco in 2019. That event is a college-level competition on various aspects of design and construction of solar power and energy efficient homes. The energy department has also promised to hold several international workshops over the coming year and a half to identify priorities for clean power research and development.
Officials from around the world are in Marrakech, Morocco this week for the 22nd Conference of the Parties, or COP22, an annual U.N. climate change conference where the future of the Paris Agreement, which came into force November 4, is being discussed.
While Trump has strongly signalled his unwillingness to take climate change seriously and desire to promote fossil fuel industries, he is fundamentally driven by opportunism, not ideology. Sure, he'll try to block construction of an offshore wind farm if it will interfere with the view from one of his golf courses, but he'll also cite the urgency of climate change in a bid to shore up a different golf course against the effects of ring tides and worsening storms.
Ultimately Trump will be under pressure from foreign governments, state governments, federal republicans, and even industry not to abandon commitments to invest in alternative energy. Disappointing that many people might just be more than his ego can bear.