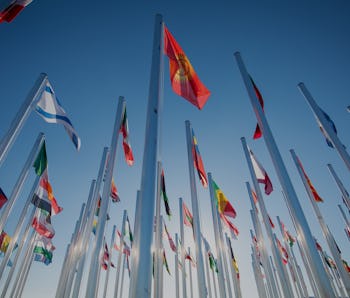 Science
Climate Change Diplomats React to Trump With Despair
They are gathered in Morocco this week, one year after the historic Paris negotiations.
Flickr / UNclimatechange
Diplomats from around the world are gathered in Marrakech, Morocco, this week for COP22, the United Nations climate change conference. Many stayed awake through the night to watch Donald Trump's surprise ascent to the position of President-elect of the United States. On Wednesday morning, they reacted to the news with a mixture of hope and desperation.
Trump, who has called global warming a Chinese hoax and "bullshit," has promised to "cancel" the climate change deal negotiated at COP21 in Paris last year.
The Paris accord is a product of an unprecedented international agreement to stand as a united front in order to reduce global fossil fuel emissions. As of this month, 193 countries have signed on, and of those 103 have ratified the deal. Each of those countries came up with its own set of commitments for emissions reductions, with the intention of ramping up those goals over time. The world is looking to the United States — the second largest emitter after China and the largest emitter over history — to take aggressive action. The agreement was signed into law by President Barack Obama, and came into effect just five days ago.
Trump has also promised to dismantle the Environmental Protection Agency and block Obama's Clean Power Plan, both measures that will all but ensure that America fails to meet emissions targets promised in the Paris Agreement.
Still, global diplomats and leaders are not willing to give up on the product of decades of international negotiations, even if U.S. support has been crucial to the implementation of the deal. They know that belief in Donald Trump's ability to derail international cooperation on climate change could be enough to make it so.
"I do believe that climate progress will not crash and burn because of one single man who was elected yesterday," Jean Su of the Center for Biological Diversity told Pacific Standard after a sleepless night at a Marrakech hotel bar. "One single man cannot ruin a whole 20 years of progress on climate change."
Beneath the brave faces, many are feeling deep sadness and fear, and some have met the news with sharp words.
"Today many Africans have woken up horrified that we have a man in the White House who does not even accept that climate change is real; a president who has promised to back more fossil fuels, and who has promised to pull out of the Paris Agreement," said Geoffrey Kamese of Uganda at a briefing held by Friends of the Earth. "This means that people on this continent will pay with their lives for the results of this election."
Some expressed hope that, with or without Trump, global momentum to take swift action against climate change will continue to gather speed.
"Other major countries in this process will continue to go ahead with the climate commitments that they have made under Paris, not because they're trying to please the United States, but because it's in their own self interest to protect their people from the impacts of climate change," said Alden Meyer with the Union for Concerned Scientists, a U.S.-based advocacy group.
Under the provisions of the climate deal, Trump cannot withdraw for three years, after which there would be a further one-year wait for the change to come into effect. He could, however, withdraw from the 1992 UN Framework Convention on Climate Change — the legislative basis for the international negotiations that birthed the climate deal — with only a year's notice. This would surely result in severe domestic and international backlash, and is an unlikely worst-case scenario.
The greater worry is that Trump will quietly renege on the country's climate change commitments, and other countries will follow suit. Diplomatic pressure is really the only compliance mechanism in the Paris deal, and if leaders feel that others are not pulling their weight, it could dampen enthusiasm for taking tough but necessary action.