John Wick Is "Bulletproof" in First Poster for 'John Wick 2'
Yeah, I'm thinking he's back.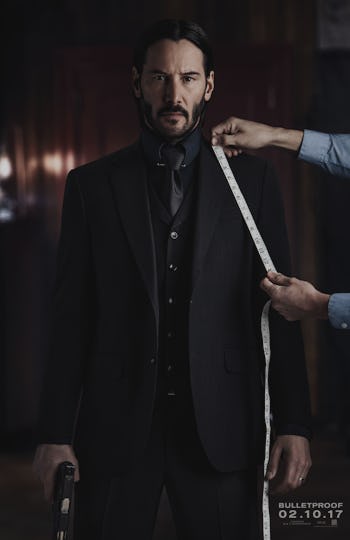 Summit Entertainment
The first poster for John Wick: Chapter 2 was released Wednesday and Keanu Reeves's reluctant hitman is looking appropriately debonair. While the poster doesn't say much, it's an effective way to advertise that John Wick and his personal brand of lethal class will be ready for more exquisitely choreographed action in the sequel.
The first John Wick film was a surprise hit that reinvigorated the genre best defined by Death Wish, Get Carter, and The Professional. The story stars Reeves as a recently retired hitman called back into action after the heir to the Russian mafia murders Wick's final gift from his wife: a dog.
John Wick was a darling among critics who praised the film's decision to forgo flourishes of modern action cinema like shaky cam in favor of intricate fight choreography. Strong word-of-mouth and a positive critical reaction helped the film earn an astounding $80 million at the box office; that's compared to the film's relatively small $20 million budget.
John Wick: Chapter 2 is set to pick-up where the first film left off. Wick, fresh out of retirement, is called to Rome, Italy where he must once again face off against a colorful cast of hitmen. The Roman setting helps explain why Wick is being fitted for a new suit, presumably from an Italian tailor who may or may not also be an assassin. John Wick's unique world-building through details like assassin currency, criminal terminology, and hotels for hitmen represented some of the coolest touches that put Wick ahead of other similar action films.
While the first film didn't boast the most famous cast, its actors embraced the underworld motivations of their characters, from Reeves's stoic hitman to Game of Thrones's Alfie Allen perfectly channeling his whiny Theon Greyjoy as the Russian mob prince who murders Wick's dog. Throw in perfectly pulpy performances from actors like Willem Dafoe, Ian McShane, John Leguizamo, and Adrianne Palicki, and John Wick was the perfect genre vehicle. Along with a couple returning characters from the first film, Chapter 2 will introduce new players like Common, Laurence Fishburne, and Orange Is the New Black's Ruby Rose.
John Wick: Chapter 2 is planned for release on February 10, 2017.