Keanu Reeves Reunites With Laurence Fishburne in 'John Wick 2' Set Photos
The famous duo from 'The Matrix' reunite in Brooklyn.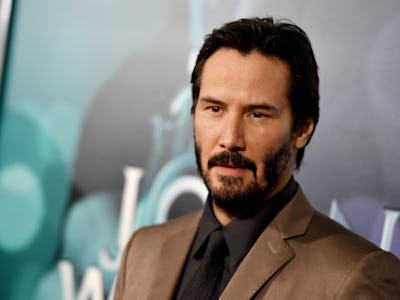 Kevin Winter/Getty Images
Keanu Reeves and Laurence Fishburne set the world on fire in 1999, starring across each other as Neo and Morpheus, respectively, in The Matrix. They, of course, reprised their roles for the franchise's subsequent sequels, but have not reunited much since. Today, however, Gothamist reports that they're fruitful on-screen relationship will come back to life. In John Wick 2.
Wick 2 is in the midst of filming, which began this past fall. There were already some leaked set photos that revealed a mime and a dog. And, as you can see in the above photos, the new shots reveal an intriguing setting: A Brooklyn rooftop.
What in the world could John Wick do on a rooftop? Well, just about anything. So, for now, he's eating some chili.
Most of the shots are from a distance, so the action is fairly difficult to pick out. But, from what is visible, it looks like Fishburne may be some sort of mentor for Wick. But Wick doesn't really need a mentor, as the world's greatest hitman, which means that Fishburne — Wick's Morpheus, if you will — must be a motherfucking legend.
If John Wick has go to a rooftop in Brooklyn to see this Wick 2 Morpheus figure, then he's got something really important to avenge. Like if an entire litter of puppies were kidnapped.
We know that Ruby Rose, Peter Stormare, and Common will be in the sequel. We also know, more specifically, that Common will play the villain.
But Fishburne — especially when he's wearing those sunglasses — is infinitely more badass than Common. The only explanation, therefore, is that Common's character has an entire band of bad guys trying to kill John Wick. Wick could take Common in his sleep, but a million Commons? He may need a Morpheus for that.
It's only a matter of time before a trailer or some script details from John Wick 2 leak. Until then, sit back and relax with Keanu Reeves as he calmly enjoys a cigarette.
Wick almost back.