Photos Show Keanu Reeves Filming 'John Wick 2' in Rome
Keanu Reeves' assassin character goes global, but where's his trusty pitbull sidekick?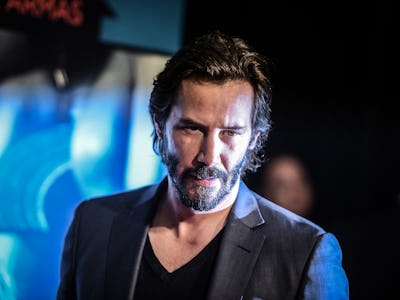 Getty Images
New set photos from John Wick 2 have emerged of Keanu Reeves shooting the (hopefully) completely bonkers revenge sequel in Rome, Italy.
This follows a series of set photos from the past few months that have seen Reeves' titular assassin tear through New York City with his trusty pitbull sidekick/best friend. But instead of staying stateside, the Wick man has gone global.
There's no official word yet, but John Wick 2: European Vacation seems like a perfect enough title for the follow up. Reeves will also team up with his Matrix co-star Laurence Fishburne for the sequel.
The movie officially began shooting in Rome today, and after a few earlier photos showing Reeves dining out with his co-star, Ruby Rose, the actual on-set images show Reeves in character walking around what looks like a large art gallery in Rome.
We'd like to think Wick is there just for some downtime to check out precious wicks works of art, but we really want the huge old structure to be the Roman version of one of the awesome assassin safe houses used by the shadowy hitman community in the mythology of the movie.
Wick fans (aka Wick-nesses) will notice Johnny Boy isn't in his typical bespoke suit looking fly as hell while icing a bunch of bad guys. Instead, he's decked out in what the Daily Mail called called a "cream cotton number" that he pulled together "with a pair of comfortable blue jeans and some dark brown suede lace-ups."
It looks to be the same sensible henley seen in the set photos from when the movie was shooting in New York early last month, so look for this to be the Wick man's main fashion statement this time around. An assassin's gotta be casual sometime too, right?
Also gone is Wick's treasured pooch, the very same pit bull Wick decided to adopt (read: steal) at the end of the first movie. Hopefully, the lucky canine didn't get stuck at customs in real life or, even worse, meet the same fate as Wick's original dog in the first movie.
Though in that case, Wick would be out for even more revenge. In that case, we're calling it right now: John Wick 2 will be the best movie ever made. Between this and Key and Peele's Wick parody, Keanu, we're spoiled with Wick-ness.
John Wick 2 doesn't have an official release date, but is slated to hit theaters sometime this year.