Keanu Reeves Runs With Hero Dog in These New 'John Wick 2' Set Photos
Reeves was filming in NYC on Monday.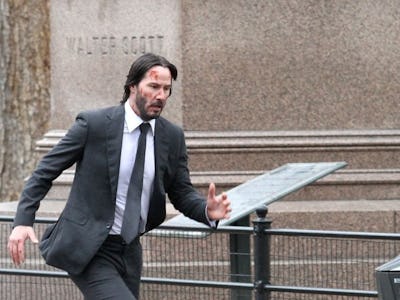 Keanu Russian Club/Twitter
Last month, the first photos from the John Wick 2 set came out. Then, just last week, we got even more pics that revealed star Keanu Reeves would be reuniting with his Matrix costar Laurence Fishburne in the Wick sequel.
Now, we've gotten even more photos of Reeves as the film's titular assassin. Frankly, we're just getting spoiled.
Let's start off slow. That's John Wick with his new puppy. If you'll recall, those original set photos revealed Wick with that same pooch. The furry friend first appeared at the end of John Wick and is now very much here to stay.
More than just running with this new dog, though, John Wick, of course, has a blood stain on his pressed white shirt. The dog is obviously fighting bad guys with Wick and living. That dog has seen some shit. That dog has seen a human soul exit the body.
What else has that dog seen? John Wick using a pay phone. People only use pay phones if they don't want to be traced. Maybe he's calling Fishburne's Morpheus? We did speculate that Wick will need a mentor because there will be, like, a million villains to kill. Common is playing the arch nemesis, as previously reported, so the only worthy guess is that he's cloned himself to create an army of conscious-rapping, Kangol-wearing murderers — the only reasonable way Common could match up to John Wick.
That's a lot of excitement for one dog to take. He deserves a walk.
Without his signature suit, it's difficult to tell if it's Keanu Reeves walking the actor dog or John Wick walking the badass crime-fighting dog. Let's assume the latter, which finally gives us the answer to the long-asked question, "Who's a good boy?"
You, hero dog.