Keanu Reeves Drops New Details on 'John Wick: Chapter 2'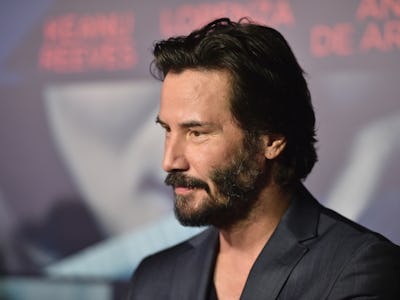 Alberto E. Rodriguez/Getty Images
Here at Inverse, we love us some Wick. We can't get enough of the old Wick man — aka Baba Yaga — played by Keanu Reeves. The character burned rubber in a sick-ass '69 Mustang straight into our hearts before icing countless numbers of dudes all because the snot-nosed son of a weaselly Russian mobster killed the cutest puppy in the world that his dead wife gave him. John Wick is a perfect movie, and thankfully the Boogeyman himself will be back for a second Wick installment in the new movie John Wick: Chapter 2, which just finished principal photography. IGN caught up with Reeves after the movie wrapped, and the actor spilled some new details about the continuing adventures of one Jonathan Wick.
When asked to compare the sequel to the original, Reeves told IGN, "For us it was just what is the next chapter? What is the continuation of this story? Opening up the world — the underground world. The world behind the world in terms of the assassins. Kind of evolving the action." He continued with probably the greatest Wick-related response that Wick fans wanted to hear: "If the first one was a black belt, then this one is third degree black belt. It's such a fun project and a great character."
Breaking news: Keanu Reeves just used a karate metaphor to describe how much better Chapter 2 is than the first movie. That is the coolest thing, maybe ever?
As for what the new movie will actually be about, Reeves didn't divulge much. But he did explain some new character developments in the new movie, including what we can expect from his Matrix co-star Laurence Fishburne's new role, and actor Peter Stormare.
"Laurence has this fantastic role as a character in the Underworld called The Bowery King" Reeves told IGN. "He plays such a great character in the piece and he brings of course humour, intelligence, charisma and fascination — he's such an incredible actor and it was a pleasure to work with him again."
So, humor, intelligence, charisma, fascination, and throw in the badass "Bowery King" nickname — it's everything you'd want in a Wick movie. Welcome to John Wick, Morpheus.
As for Stormare, it seems he'll play a small part in Chapter 2. "Stormare has more of a cameo in it but again he brings such fun and mystery and this mixture of groundedness and the surreal," Reeves said.
We can't wait to get surreal when John Wick: Chapter 2 hits screens next year.