Who Should Play Young Lando in the 'Han Solo' Movie?
Here's who we think could be the best smooth-talking smuggler in the galaxy opposite Alden Ehrenreich as Han.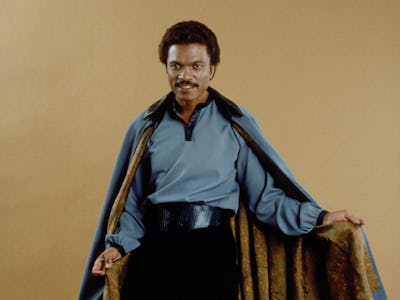 StarWars.com
Few directors chairs are hotter than the ones upon which Han Solo's Phil Lord and Chris Miller sit. It's a daunting task, to recast one of most iconic roles in all of nerd culture — and with the news that the film will feature a young version of Lando Calrissian, they're doubling the degree of difficulty.
Whichever actor they choose will face the same gargantuan challenge that new Han Solo actor, Alden Ehrenreich, is staring down as he dons the vest made famous by Harrison Ford. Anybody who steps into the utterly charming but vulnerable shoes of Lando, made iconic by actor Billy Dee Williams as Lando in The Empire Strikes Back and Return of the Jedi, needs to both honor his predecessor and make the role his own. Considering the number of actors Lord and Miller had to audition for Han, the Lando list could reach the thousands.
But they don't need that many, here are our top five.
5. Alfred Enoch
The How to Get Away With Murder actor is right in the sweet spot. He's got a hefty chunk of episodes in the Shonda Rhimes-produced ABC drama under his belt, he's no stranger to gigantic tentpole blockbusters because he played Gryffindor student Dean Thomas in massively successful Harry Potter film adaptations; and he isn't necessarily a recognizable face. Experience and relative anonymity is the perfect combination for someone looking to step into an iconic role and making it his own. Plus, have him grow out his hair a bit and a mustache and he's be a spitting image of Williams as Lando.
4. Ruth Negga
Negga is the wildcard choice for obvious reasons, and it probably wishful thinking, but she's so goddamn magnetic as the Lando-esque Tulip on AMC's Preacher that the idea of her becoming Han Solo's best human friend is too good to ignore. Besides being able to turn on an effortless charm reminiscent of the former mayor of Cloud City, Negga is the kind of actress that defines versatility. She's made her mark on TV shows like Agents of S.H.I.E.L.D., big summer fare like Warcraft, and will be on the awards hunt for her role in filmmaker Jeff Nichols's heart-wrenching upcoming civil rights drama Loving. An unlikely curveball like casting her as Lando would surely turn heads.
3. Donald Glover
Once the news trickled down from the Lucasfilm gods that we might see Lando in Lord and Miller's standalone Han Solo movie, the collective internet hive-mind immediately shouted Donald Glover's name as loudly as they could. Geek culture has always had his back, initially starting a campaign to cast him as Spider-Man before Andrew Garfield got the gig, and the grassroots fandom of Community is why that show still lives on in the public conscience. The fervor for Glover-as-Lando still hasn't let up, with outlets reporting rumors that Glover is possibly the first choice to take over for Williams. Does that make him the best choice out there? Absolutely not. While Glover is a man of many comedic, dramatic, and musical talents he seems far too guarded to really inhabit the Lando character. He's also busy with his autobiographical FX dramedy Atlanta at the moment and might not want to step into a huge, presumably multi-year commitment. Still, it would be kind of great to see the snark-filled Glover do something akin to that iconic scene where Lando meets everyone at Cloud City.
2. Shameik Moore
Like Enoch, Moore is at the perfect point in his career for the Lando role. He's currently burning up Netflix subscribers' screens as the eccentric hip-hop kung-fu street urchin Shaolin Fantastic in the musical drama The Get Down. Last year, as he had his big breakout as the lead in the Sundance hit dramedy Dope, which shows Moore has the range required for Lando. Moore's performances stretch from tender to violent and back again, and mix that with his up-and-coming status and he'd be a great choice to pilot the Millennium Falcon.
1. Michael B. Jordan
Go watch Creed. Seriously, we'll be here when you get back. Good? Okay. Can you think of any other actor who has come in to a 40 year-old franchise and commanded the screen so much that he completely overshadowed the veteran who started it all? Jordan's turn as Adonis Creed in filmmaker Ryan Coogler's 2015 boxing drama is one of the brightest star-making turns in recent memory, and it shows Jordan has what it takes to make the role in the Star Wars standalone movie his own while not overpowering the cherished legacy of the story around him. Remember, this is the guy who was the glimmer of hope in the woeful 2015 Fantastic Four disaster. He can make anything shine, and knowing Lord and Miller's track record he can make a great thing even greater.