Who Should Reboot 'Fantastic Four' Next?
Reviews for the new movie don't look good. But the future will still be Fantastic.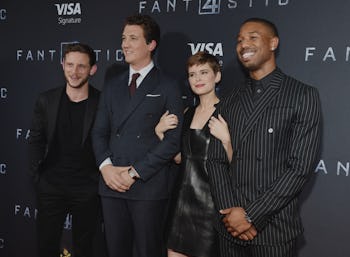 Getty Images
The initial reviews are in, and it's not looking good for Josh Trank's dark and gritty Fantastic Four reboot. This caps off months of bad buzz for the Twentieth Century Fox property that had seemingly grounded the movie way before its release, but the initial negative reactions all but guarantee that it won't be racking up the numbers needed to keep the franchise going at the studio. This means the rights to the superhero foursome could very well pass to Marvel, meaning Mr. Fantastic and the gang could team up with the Avengers in the Marvel Cinematic Universe sometime in the future. This leads us to one question: Who should be behind the inevitable new reboot?
1. Cary Fukunaga
After making some small waves with his Spanish-language drama Sin Nombre and the naturalistic adaptation of Jane Eyre, Fukunaga hit it big when he directed all eight episodes of the celebrated first season of HBO's True Detective. The astounding six-minute shot at the end of Episode 4 showed Fukunaga has the technical know-how to make a story pop, but his deft handling of the hopelessly intertwined narratives of writer Nic Pizzolatto's crime saga means he can pull together an ensemble. He recently dropped out of an adaptation of Stephen King's It, so you know he's aiming bigger, and his Netflix movie Beasts of No Nation will make his profile even wider. What better opportunity for a ridiculously talented dude than to see what he can bring to a fledgling franchise?
2. Drew Goddard
Goddard already has a fairly sterling geek pedigree. Besides penning episodes of Buffy the Vampire Slayer, Alias, Lost, and more, his big-screen script credits include Cloverfield, The Cabin in the Woods (which he also directed), World War Z, and Ridley Scott's upcoming The Martian. What makes Goddard an even better candidate for a FF reboot is that he developed and executive produced the first season of Marvel's Daredevil for Netflix before exiting to helm a movie based on Spider-Man villains called The Sinister Six. With the rights to Spider-Man reverting back to Marvel, that means any previous plans for Sinister Six are most likely dead. His superhero knowledge is untapped and needs to be put to use.
3. Joe Cornish
With only one feature directorial effort to his name, Cornish needs some more movies to add to his nonetheless impressive resume. His movie Attack the Block was a perfect '80s action comedy throwback, and the fact that he cast John Boyega (the main man in The Force Awakens) as the lead means he has an eye for new talent. His script for Steven Spielberg's Tintin movie, which was co-written by Edgar Wright, means he isn't intimidated by the big names. Plus, he's already had a brush with a Marvel superhero; Cornish and Wright's script for Ant-Man was partially used for the final movie — they even get screen credits — even after the whole kerfuffle over Wright's unceremonious exit. But if Cornish can give Marvel a second chance to forgive and forget by giving him the chance to take over Fantastic Four then it might be better for all parties involved.
4. Ana Lily Amirpour
Amirpour is the new kid on the block, with last year's moody vampire movie A Girl Walks Home Alone at Night and the upcoming post-apocalyptic cannibal drama The Bad Batch as her only features to date. But maybe unorthodoxy is what a potentially twice-failed franchise needs. Amirpour and her scrappy weirdo vibes could bring some much needed style to something that has been stale onscreen for a decade.
5. Ben Wheatley
This British filmmaker has been cutting his own niche with gritty, darkly comedic, often violent movies of people dealing with strange forces beyond their control. Sound familiar? Give Wheatley the keys to the Fantasticar and there may be way too many buckets of blood for Marvel's taste, but if he can dial the gore back, his insight into the brutal human psyche could deliver a splashy, character-driven success.
6. Jennifer Kent
Like Amirpour, Kent is basically a rookie, but dear god what a debut. The Aussie filmmaker's film The Babadook became a new horror classic from the moment it premiered at last year's Sundance Film Festival, and it has grown exponentially in reputation since then. After seeing the film, Exorcist director William Friedkin tweeted, "I've never seen a more terrifying film than THE BABADOOK. It will scare the hell out of you as it did me." High praise! While Fantastic Four may not be the most horror-minded story, getting Kent to shift that unbelievable talent into a bigger context could deepen the storytelling. She met with execs to potentially direct the Wonder Woman movie for Warner Bros. but was passed over, so we know she's into the idea of going big.
7. Marc Webb
Poor Marc Webb. He had so much going for him after 500 Days of Summer became the indie rom-com darling that your girlfriend made you watch again and again. Then The Amazing Spider-Man came web-slinging into his life. But the failure of the Spider-Man reboot and its sequel weren't all Webb's fault, and his direction showed that he was more than capable of at least trying to tie together the ideas of a superhero universe. Give him an intelligent script and then see what he can do.
8. Brandon Cronenberg
Current Fantastic Four director Josh Trank cited body horror maestro David Cronenberg's movies Scanners and The Fly as major influences on his take, which is probably the most informed thing a filmmaker has put into a superhero movie in awhile. Too bad he couldn't stick the landing. But if we still love the gritty, body horror route for the Fantastic Four, why not get as close to Cronenberg as possible (we're pretty sure Cronenberg himself would balk at the idea) and get his son Brandon, who directed a typically creepy movie of his own called Antiviral in 2012? Give him a shot to make something, and it'd probably be the most disgusting superhero movie ever made.
9. Josh Trank
No, that's not a typo. Trank himself was like many of the directors on this list: young, green, full of ideas. He got his shot to go from small-minded flick to multi-million dollar blockbuster franchise, and he may have bungled it. Fantastic Four was to be his big breakout, and if it's not, then, so what? This may not make sense by any means, but the dude is obviously talented and worthy of another shot. Based on his first movie alone — not to mention his controversial exit from one of the standalone Star Wars movies — he's definitely embedded in the superhero and sci-fi mythology in a deep way. He gave it the old college try, so just let him keep trying.
10. The Wildcard
This is a bit of a cheat, but given that Fantastic Four was rebooted just 10 years after it originally came out means that we still may not have gotten the newest film festival hit that could prove that some budding film school talent could easily take over the reins and deliver a great Fantastic Four movie. If we let the bomb destruction settle for a second (if the new movie is, in fact, a bomb), and we take into consideration the fact that Marvel may be handed the rights to the franchise to fit into some far off Marvel Cinematic Universe phase, then we'll just have to be okay with the fact that they'll pluck some young person out of obscurity. It's what Marvel does best.