'Han Solo' Standalone Movie Reportedly Casting a Young Lando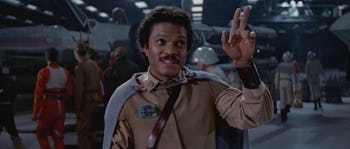 StarWars.com
We knew Chewie would be back, but it appears young Han Solo is getting some more old friends when Phil Lord and Chris Miller's standalone movie – starring Alden Ehrenreich as the galaxy's most charming smuggler – eventually hits theaters. The Wrap is reporting that the directing duo is casting an actor to play a young Lando Calrissian, Han's best human friend and the coolest dude in the galaxy. The character was first played by actor Billy Dee Williams in The Empire Strikes Back, but it looks like he'll be recast for these new non-episodic Star Wars movies.
There are no other details beyond that, but it's a definite window into not only where Lord and Miller are going with their film but Lucasfilm's overall strategy for the standalone movies. The plotline will obviously involve Han, Chewie, and Lando getting up to no good — Lando famously lost the Millennium Falcon to Han in a game of sabacc in the Expanded Universe — but it looks to continue with Lucasfilm's push for these Star Wars films to be more diverse.
Just who Lord and Miller have in mind is anyone's guess, but judging by how many actors they auditioned for the role of Han Solo, they have a lot of actors to get through.
We can save them some time, though, and go along with who Rogue One script ghostwriter and Mission: Impossible - Rogue Nation director Christopher McQuarrie singled-out as the best candidate to be young Lando: Michael B. Jordan. Case closed, look no further, it definitely should be Jordan.
The standalone Han Solo movie hits theaters on May 25, 2018.