'Spider-Man'  Actor Donald Glover is "Done With Diversity"
The rapper and 'Community' star has things to say about Hollywood's diversity conversation.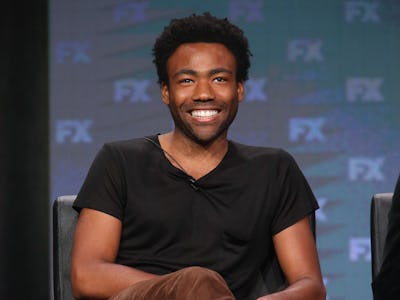 Getty Images / Frederick M. Brown
Donald Glover has had enough of Hollywood's diversity conversation. The rapper, comedian, and actor sat down at the TCA forum to discuss his role in Marvel's Spider-Man: Homecoming (or not, "he's sworn to secrecy") and weigh in on the constant battle for diversity in Hollywood. In short: he wants to stop talking about it, and just make it happen.
Glover has circled roles in the Spider-Man franchise for years. During the casting process for Sony's The Amazing Spider-Man, Glover was pushed heavily by fans on the internet to be cast in the title role which ultimately went to actor Andrew Garfield. He eventually got picked for a part in the Tom Holland-fronted Homecoming, but couldn't tell the TCA audience much about his role.
"It's really great. I had a really great time on that set. Jon's doing a really good job as a director. It was really fun to be home," Glover said about working with Homecoming director Jon Watts, as well as about working in Atlanta where both his FX show and Homecoming are filmed.
Glover told IGN that his association with the Spider-Man brand "was kind of an accident." He says, "I really wasn't out there trying to do that. I feel like the Internet did that. It was cool because now I get to see from the inside a lot of that stuff, which is kind of all you can ask for as a fan."
Reporters asked Glover his opinions on Hollywood's diversity conversation since both Homecoming and Atlanta are seen as diversity projects within the industry.
"I'm kind of done with diversity," he said. "It feels like how 'tolerance' sounded 10 years ago. People were like, 'We need to be more tolerant.' It's like, what the fuck do you mean? Allow cool shit to be made. There's cool shit out there, but I understand the game. I've been in Hollywood for a while now. I know it works on value. You put a little bit into Atlanta and you got a lot out of it, and that's capitalism. That's how things work. This is cheap and you get a lot of out of it."
It's important to understand that Glover is speaking about creators being able to create projects that they want to make without being hampered by the industry — not saying that he doesn't like diversity in Hollywood.
"I feel like it's up to us," Glover continued. "I know a lot of black writers and producers and directors and stuff like that who are learning that if you make something cool for no money, people pay attention to it. It's up to us to congregate and make things important. I'm not out here trying to be like, 'Let's make diverse [content],' because the worst thing in the world to me is like, 'That's really good for an indie movie' or 'That's really good for a black show' or 'That's really good for a gay show.'"
Rather than criticizing diversity, Glover says the conversation should be about giving minority creators the freedom to produce content that's unhampered by Hollywood's still nascent understanding of diversity. Even if he does step into Miles Morales's shoes, Glover doesn't want Homecoming or Atlanta to be relegated to the confines of racially stereotyped shows or roles.