Why Friday's Spacewalk Is Key to the Future of Private Spaceflight
A one-size-fits-all docking port will finally be installed.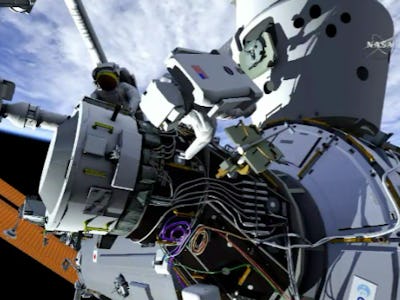 NASA
On Friday, astronauts Jeff Williams and Kate Rubins will perform a spacewalk on the International Space Station to install a one-size-fits-all docking adapter that can connect with a variety commercially operated spacecraft.
One of those is SpaceX's Dragon spacecraft delivered the International Docking Adapter to the ISS last month. The International Docking System Standard, a system which ensures that all future spacecraft — from SpaceX, Boeing, or any other entity — will be able to fit onto this docking ring once the astronauts connect it to the Harmony module on Friday. This means that so-called commercial "crew capsules" — meaning privately built ones that carry humans — can connect to the ISS. The only option for taking up humans now is via Russia's Soyuz spacecraft, and America's relationship with Russia has an expiration date.
Once installed, it'll look a little like this:
This IDA is known as IDA 2, since the first adapter was destroyed in a failed SpaceX flight last summer. Everyone from here on out will use this new docking port, including the NASA Orion crew.
Glenda Brown, NASA's lead spacewalk officer, shared a video with detailed sequential renderings of tasks the pair of American astronauts will have complete during the spacewalk, as well as a 3D-printed model showing how the IDA components will lock together.
"Things are going extremely well," Kenneth Todd, the ISS Operations Integration manager, told reporters. "It's a lot of fun getting to this point. We're right on the edge of going and doing this."
The comments were made at a NASA press conference at Johnson Space Center on Monday in advance of the spacewalk. The conference, which aired on our beloved NASA TV, confirmed that everything is right on schedule.
You can watch the spacewalk live at 6:30 a.m. Eastern on Friday, though the astronauts won't be getting out of the airlock until about 7:10 a.m. Eastern. The spacewalk will be the fourth for Williams and first for Rubins. Williams will be in EVA (Extravehicular activity) suit 1, which will have red stripes and Rubins will be in EVA suit 2 with white stripes. The crew has completed all procedural reviews, and NASA isn't currently expecting any problems.
Spacewalks are generally scheduled to last no longer than six and a half hours, and this will be no exception. Williams and Rubins will have 36-ounce bags of plain drinking water with them, but no food. These are the conditions under which they train for the walks, so they're used to them.
While the primary objective of the walk is to get the docking connector installed, the team will also need to set up a series of mirrors that future spacecraft pilots will use as to help them navigate into the station for upcoming missions.
The IDA is what's going to allow SpaceX and Boeing's initial flights to dock to the station. Both are currently in the process of retrofitting a number of different technologies for ISS missions.
"We're looking forward to getting the docking adaptor installed," said Steve Stich, deputy manager of NASA's Commercial Crew Program. "We have hardware being built all across the country … we're in what I'd call the very very difficult, hard phase of development."
The last four ISS spacewalks have all been laying the groundwork in preparation for this installation. There's a rundown in this NASA video uploaded today: