Soyuz-FG Launches New Crew on a Four-Month Mission at the ISS
Astronauts Anatoly Ivanishin, Takuya Onishi, and Kate Rubins began a four-month mission with the help of a brand-new Soyuz rocket.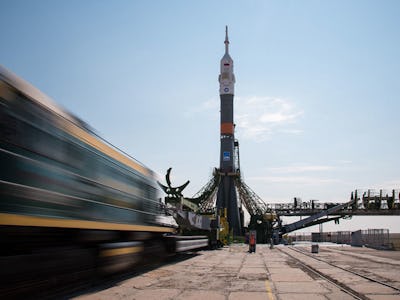 NASA
The debut of an all-new Soyuz rocket went off without a hitch today, as it launched a three-person crew of astronauts into their space. The launch marked the beginning of a four-month-long mission for the crew, comprised of Soyuz commander Anatoly Ivanishin, Japanese flight engineer Takuya Onishi, and NASA astronaut Kate Rubins, who will be taking up responsibilities on the International Space Station this Fall.
Taking off from Russia's Baikonur cosmodrome, the launch was guided by a Soyuz-FG rocker carrier. The trip to the ISS itself will take about two days, where the crew will spend time checking all of the systems and sending back reports on the new Soyuz MS-01 spacecraft capsule before docking at the Russian segment of the ISS on Saturday morning.
The new Soyuz capsule boasts more solar panels than its predecessors, a new communication system, and a digital video transmitter. Soyuz is expected to dock at 4:12 a.m. GMT on July 9, and the crew will join three other astronauts, including NASA's Jeff Williams, who are already in orbit on the ISS. This isn't Ivanishin's first trip to the ISS, but for Onishi and Rubins, the launch began their personal maiden voyages to the space station. Ivanishin previously spent about a third of one year (165 days) from 2011-2012.
During their time in orbit, the crew is expected to carry out roughly 40 experiments aboard the ISS, and will receive a series of resupplies for the space station. SpaceX's CS-9 will arrive with new investigations that will help test the capabilties of DNA in space, and new tests on how computers hold up against radiation in the station are expected to begin as well. One of the major missions they're meant to accomplish is preparing the space station for future U.S. crews by receiving and installing the station's first international docking adapter. The adapter is meant to serve as a docking point for any spacecraft, opening up the ISS to potential future commercial space travelers and beyond.