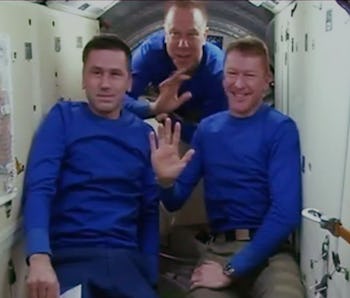 Science
ISS Astronauts Return to Earth, NASA's Jeff Williams Takes Over Command 
They oversaw installation of the BEAM model and research into eye disease. 
NASA TV
Early Saturday morning, three astronauts aboard the International Space Station safely returned to Earth, which completes a mission that began on December 15, 2015 with the research goal of helping eye disease patients for both long duration space missions as well as on Earth.
Expedition 47 Commander Tim Kopra of NASA, Tim Peake of the European Space Agency, and Yuri Malenchenko of Russian Federal Space Agency Roscosmos all safely landed on Earth in Kazakhstan at 5:15 a.m. East Coast time.
NASA says the three astronauts focused on research around four main categories: ocular health, cognition, salivary markers, and microbiome. In particular, NASA's research into data and vaccines has the potential to help patients suffering from eye diseases such as glaucoma, which is beneficial for people on Earth as well as NASA's long term goals of deep space travel.
The team recently oversaw the installation and inflation of the SpaceX-delivered Bigelow Expandable Activity Module (BEAM), which could be the future of deployable human habitats on other planets. Kopra also ventured outside for two spacewalks during his extended stay.
All of the astronauts are part of studies monitoring the long term effects of space on the human body. Upon the completion of this mission Malenchenko has spent 828 days in space, which puts him at second on the list of most days spent in space behind Russian cosmonaut Gennady Padalka.
Commander Kopra passed his leadership duties onto Jeff Williams Friday before the landing procedure commenced. Kopra spent 244 days in space on two flights, while Williams is expected to surpass Scott Kelly on the U.S. list of most days spent in space. Upon completion of Williams' mission in September, he will have spent 534 days total in space.
NASA astronaut Kate Rubins, Russian cosmonaut Anatoly Ivanishin, and Takuya Onishi of the Japan Aerospace Exploration Agency will join the current occupants of the space station — Williams, Oleg Skripochka, and Alexey Ovchinin of Roscosmos — during a launch on July 6.