Everything You Need to Know About the New Gucci Mane Album, 'Everybody Looking'
The Atlanta rapper's first major label album in six years, coming July 22, will be a chance at a comeback.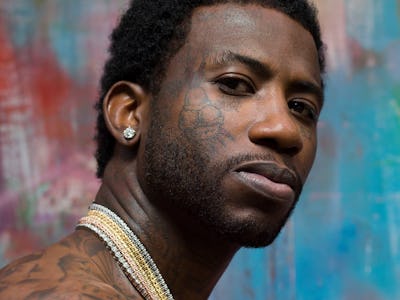 "I can't even sleep, I got so much to say," begins the intro track from Gucci Mane's upcoming album, Everybody Looking, due out this Friday. He then calls out all of the powers that kept him from saying it for almost three years, when he — one of the most influential rappers ever to emerge from the city of Atlanta — was locked up in a federal penitentiary in Indiana.
The song, like several of the other tracks Gucci's d since being released just seven weeks ago, seems to incorporate elements of his past styles. With a Zaytoven beat boasts ominous synth bursts that could have come off a Gucci mixtape track from the late '00s, it feels like an inspired exploration of the DNA of the now-veteran producer's chemistry with the rapper. "Guwop Home," another strong post-prison release with a celebratory video to match, finds Zay collaborating with one of Gucci's other most important collaborators, ATL-trap-stape-cum-Miley-Cyrus-collaborator Mike Will Made-It. The video shows Zay, Mike Will, Guwop and one of his most successful protégés Young Thug in the midst of a pool party/recording session.
The mic and the beatmaking equipment suggest a long-understood reality of Gucci's life: He is always recording. That's how a retail album just a few weeks after his release — not to mention numerous other features, including Drake and Kanye collaborations — is even possible. For a man known for — even while in prison, using old files — releasing between 10-15 projects annually, it's not a surprise that we should be getting a new project so soon.
It's no secret that Gucci's prison mixtape regimen got tiring. By the end, it was clear that his engineer and collaborator, Sean Paine, was mostly recycling verses over new beats, and with new features. It was a smart way, however, to keep Gucci's name in the rap blog headlines, and built anticipation for fresh Gucci music.
And indeed, the post-jail music of the newly fit, de-grilled and bearded Gucci suggests a vitality that's missing from a lot of the music he released just before and during his stint in Indiana. It's not just the subject matter — the inspiration he got from his time inside. It's the fact that big names and all his finest collaborators (and he's had many over the years, from Drumma Boy to Future to Metro Boomin) are all excited to work with him again. Many of them, like Future, Thug, and Metro, have become legitimate superstars since Gucci was out, and their heightened profile can't do anything but help Gucci's re-ascension.
You won't find Everybody Looking — his first major-label release since 2010's The Appeal: Georgia's Most Wanted — up on iTunes yet for preorder, but the track listing has been leaked. It boasts just one auspicious feature: another Kanye-supported track. The lack of features bodes well, as some of Gucci's projects of the '10s have been weighed down by too many features for padding. But as he says, he has a great deal to get off his chest. Here's the full listing:
1."No Sleep (Intro)"
"Out Do Ya"
"Back On Road"
"Waybach"
"P** Print" (feat. Kanye West)
Pop Music"
"Guwop Home" (feat. Young Thug)
"Gucci Please"
"Robbed"
"Richest N** In The Room"
"1st Day Out Tha Feds"
"At Least a M"
"All My Children"
"Pick Up the Pieces (Outro)"
Not featured here, notably, is the loosie Gucci released earlier this month boasting the biggest feature to date: 2pac. That is, the song includes a verse recycled from the late West Coast legend's posthumous track F—- 'em All":
Stunts like this, though, just help Gucci stay at the forefront of the rap-listening world's attention. He's long been a good businessman and networker. Let's hope his increasingly memeability and PR brilliance doesn't overshadow his music on Everybody Looking. By all accounts though — even despite his recent Harmony Korine Supreme commercial, which felt a bit forced — this album is going to feel like a breath of fresh air, in a contemporary hip-hop landscape where everyone seems to be cribbing Gucci's style.
He's definitely aware of the fact (just listen to Everybody Looking leak "All My Children") and ready to reclaim his spot as a guru and tastemaker.