5 Essential Gucci Mane Mixtapes and Albums to Celebrate His Release from Jail
From 'Chicken Talk'ing to 'Burrprint's, here's our ranking of the best of Atlanta's reigning trap-rap god.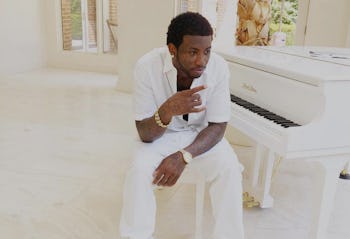 Gucci Mane never stopped releasing music when he was in jail — turning out nearly 10 mixtapes a year with the help of his engineer — and before his release last week, he had been in for almost three years. With his re-emergence and return to making actually new music, young rap fans will be introduced to the Atlanta rapper for the first time, and old fans will be paying attention again. Guwop's first post-prison release — the Mike Will Made It-produced Soundcloud loosie "First Day Out Tha Feds" (a callback to his beloved 2009 mixtape track "First Day Out") — racked up over 1.8 million listens in the first 48 hours it was posted.
Now, once again, it's Gucci's moment. Will he be able to deliver on the promise of his first new song, and a prolific, illustrious, and highly influential career? The following five classic Gucci Mane releases stand as the standard against which subsequent work should be judged.
I walk through in South Africa/I jumped in my foreign Acura/I flip it just like spatula/So suck me just like Dracula - Gucci Mane, "Photoshoot"
It's kind of hard to pick a favorite from the vast collection of music that Gucci Mane released from 2008 to 2010; thus, why several of these mixtapes are on this list. This was probably the most musically diverse offering of the bunch, even if tapes like The Burrprint 3-D — often considered the favorite — had even superior one-liners. It has several of Gucci's greatest standalone tracks, tracks that could have been hits on a studio album ("Photoshoot," "Add it Up," "Feeling Myself," "Bachelor Pad"). Along with Lil Wayne, Gucci was elevating the free-mixtape art form in hip-hop to something as important or, in the right parts of the country, more important than a big album drop.
I'm in my M6 Beemer, this is no 645/ Like a pigeon in the sky, I just shitted on your ride/ So much weight off in my house, you would think it was a gym/ Plus my Nikes match my necklace and my necklace match my rims - Gucci Mane, "Dope Boyz"
The convergence of both Gucci's Burrprint series and his Movie series happened to combine everything excellent about Gucci Mane's music, from the sharp hooks of Chicken Talk to the left-field similes and coy taunts of freestyle-heavy tapes like Bird Flu Part 2 and No Pad No Pencil. This tape is arguably the best distillation of the rapper's style, as well as the conclusion of what many might consider his classic period.
I put it on the pot and I cut on the water/ I whipped that shit around and bought me a Charger/ A Waffle House chef, man, I got eight orders/I got no passport, I see no borders - Gucci Mane, "Work Ya Wrist"
Gucci Mane's first mixtape was his first earnest statement of purpose, following his debut album, Trap House, in 2005. "Trap music was a familiar term from T.I., Atlanta's top man on the national scale at the time, but Gucci and Jeezy (then, his rival) were just codifying the musical tenets of the genre.
Chicken Talk is not as musically distinctive as later releases, but it hinted at everything that would be possible later: how consistent Gucci could get endless mileage out a few flow patterns and subject matter, how many strong hooks he could manage across a 25-track mixtape, and his ear for production. The tape helped announce his "Icy" collaborator Zaytoven's unique, baroque voice to the world in earnest — take the lounge-y flute of tracks like "Burn One (Freestyle)," or the orchestral blasts of "Stupid."
Magic City Monday, ball-player wasted/This is for your uncle drinking Thunderbird, wasted/12-pack wasted, I need more cases/And Gucci's not a racist, all my diamonds caucasian - Gucci Mane, "Wasted"
Gucci's best studio album came in the middle of his excellent mixtape run, and was the greatest commercial success of his career, topping the rap album charts and reaching #10 on the Top 200. It was full of expensive, non-exclusively trap beats, and big-name features (look out for Nicki and Wayne). Three of its singles charted on the Hot 100 charts, out of only four of Gucci's singles to make the crossover from strictly rap circles. The most iconic today is probably the eerie, piano-driven Lemonade," but the Plies and OJ da Juiceman-featuring "Wasted" was the highest charter. The clearest bid Gucci ever made for outright pop somehow worked: the Usher-featuring ballad "Spotlight."
Drop racks, get it back/ Call the shit karma - Gucci Mane, "Normal"
Coming during the heyday of his fruitful partnership with Waka Flocka Flame (the year the latter would release his influential Flockaveli album), this is one of Gucci's most consistent tapes, boasting some of his greatest hooks and technically accomplished rapping.
Some honorable mentions: Trap God (2012), Writing on the Wall (2009), Free Bricks (with Future) (2011), The Burrrprint 2 (2009)