The Verses on Kanye West's New Song 'Champions,' Ranked
Kanye is definitely not #1.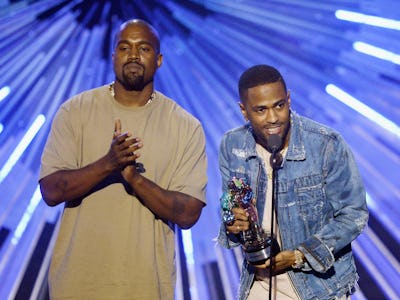 Getty Images / Kevork Djansezian
The first taste of the second compilation album from Kanye West's G.O.O.D. Music enclave came today on Big Boy's Real 92.3 show, announced suddenly by Kanye on Twitter. The Cruel Winter album has been rumored for years, and if not musically that impressive, the song — a 6-verse posse cut — is fittingly grandiose, and like much of Kanye's recent work, feels spontaneous and a bit dashed-off. To at least some extent, it would have to be, considering the fact that Gucci Mane — freed from prison a week ago — is on the track rapping about getting out of jail.
It's perfect, self-aggrandizing, trap-flirtatious 2016 Kanye, and he's the worst part. Here's our ranking of the song's verses — discounting the extremely forgettable Travi$ Scott/Desiigner's hook work — best to worst.
1. 2 Chainz
Anyone get in my way/ Nothin' to say, I tote them choppas like pool sticks/I wear pajamas to Ruth's Chris
2 Chainz is always just on the edge of falling into non-cogency, seemingly happening on his most unforgettable and hilarious lines. He doesn't fall off the wagon on this one. Like his introduction into his verse on Chance the Rapper's "No Problem" — a song of the summer contender — the artist formerly known as Tity Boy seems to be reasserting his charisma in 2016 with the fantastic opening line: "I took a nap in the pulpit/I never like how a suit fit."
2. Gucci Mane
"And I don't really fuck around/I gave my bitch two mil' cause she stuck around"
Good for Gucci. Seems like he opened his inbox when he got home and happened on a Kanye invitation. Between his two turns on this song, and the unprecedented amount of streams he's gotten on the sole solo track he's released since his release from prison, it looks like the near future may hold some great things and big opportunities for Guwop.
Gucci's voice sounds higher-pitched and most focused than he has since the turns of the '10s. He knows where he stands in the hip-hop landscape and he's ready to make the most of it: "Now that Gucci's home, it's over for you Gucci clones."
3. Yo Gotti
Whips on nasty, no manners/I just got head in a Phantom
Yo Gotti has been an endearing, never-offensive control variable in Southern hip-hop — beloved in his region, ever-mediocre but never bad. Occasionally, even today, he happens across something that really hits home. Gotti, Gucci, Quavo, Travi$ Scott, and Desiigner on one song: Thats a few generation of trap music all crammed into one five-and-a-half-minute package; Gotti is the perfect affable, workman-like traditionalist to round out the lineup. He knows how to play his corner.
4. Quavo
"They tried to turn me to an animal/But white people think I'm radical"
The sound of Migos has been permeating rap music increasingly for the past two years or so, and making it generally more boring. To me, there's no more boring move these days then the "Versace, versace, versace" triple-time flow. Here, though, the Atlanta trio's de facto frontman Quavo is used intelligently as window dressing here, breaking up the endless string of verses and leading off . In the wake of Hillary dabbing, among so much else, the "white people think I'm radical feels like the best Quavo line in some time.
5. Big Sean
Just because Big Sean sounds like he's trying the hardest on this song doesn't mean he deserves to be any higher than this. But maybe I just can't decide whether the way the Detroit charmer stretches vowels and word emphases to get through a couplet is sweet or cringe-worthy: "I'm a muthafuckin' champion/This right here the fuckin' anth-am/I can't dap you without hand san'/I don't know where your dirty-ass hands been."
The image of Sean wak[ing] up to like a hundred texts" is a vivid and hilarious one though. It's the kind of budget Drake line that makes it hard for anyone to commit to being a categorical Sean hater.
6. Kanye West
"Pray for me/I'm about to hit the Ye button"
Yes, he certainly is. Unfortunately, this isn't even very fun/funny late-period, nothing-matters Kanye rapping, though the Gucci salute is charming. "I don't wanna say nothin' wrong/But it'd be wrong if I ain't say nothin'" is a good line for elucidating Kanyes mental machinations while looking at a blank Twitter window, though.