The 6 Greatest Songs on Chance the Rapper's 'Coloring Book'
We knew it was going to be great, but here's the breakdown on how, why, and when, specifically. Download it!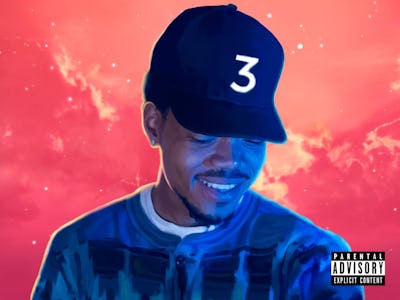 https://www.facebook.com/chancetherapper
It's no surprise that Coloring Book, Chance the Rapper's long-awaited new album, is a formidable statement — and qualitatively, fantastic. It becomes a contender for (rap) album of the year just a couple tracks in. Few rappers have as distinct and expansive a musical identity in hip-hop as 23-year-old Chancellor Bennett. His music is Chicago to the bone, but global in vision, and he possesses the off-the-charts levels of confidence and personableness, befitting the superstar he is quickly becoming.
1. "No Problem" [feat. 2 Chainz and Lil Wayne]
Chance's footwork-infused gospel-rap sound is a truly magnificent concoction, and we're getting more and more used to it. It inspired Kanye to outright imitation on "Ultralight Beam," and a lot of moms to browse the "Donnie Trumpet" section of iTunes after Chance's SNL performance of "Sunday Candy." But one thing we've been missing for the past three years since the Acid Rap tape is Chance putting his all into hard-grooving rap songs.
Usually, when he pulls these out, the mix of styles is as original as the sound he built up on Donnie Trumpet and the Social Experiment's Surf album last year, and expounds upon on most of Coloring Book. Here it's like College Dropout 'Ye with a burbling soul sample, a slow-jam groove, and trap cadences thrown on top of it. The main event, of course, is the indelible hook: an ode to Chance's continuing industry independence and, in Weezy's mouth later in the song, a shot at Birdman over his current label situation.
2. Angels [feat. Saba]
This remains great; it has been since its auspicious debut on Late Night with Steven Colbert in October. Also based on a cathartic gospel choir sample, Chance and his cohort Saba retain a clipped street rap cadence that moves in fits and starts. To confuse the formula, Nico Segal (aka "Donnie Trumpet") and the Social Experiment gang strut with an elaborate, invigorating horn line, which is pitted against a mousy steel drum line. The whole thing is a heartfelt, clever, and realistic tribute to their hometown.
3. "Same Drugs"
Chance can go small scale: He doesn't have to be going mach speed over big-band charts to succeed. For most of this beautiful song, he gets his mileage out a string quartet, a piano, lush vocal harmonies here, and just a pounding hi-hat. Lyrically, it's nostalgic Chance at his best. Musically and lyrically, it's evidence of Chance's continual evolution — his ability to make super-complicated compositions and song forms palatable.
4. "All Night" [feat. Knox Fortune]
A beautiful outlier on the tape — what "Chain Smoker" was to Acid Rap. Chance's throwaways are way better than anything your favorite rapper ever put out. This one is full-on hip house music — the kind of infectious balance between rap and dance music his colleague Vic Mensa struck on "Down on my Luck" in 2014. He sounds like a different version of himself here: slightly hoarse, taunting, in full turn-up mode. He's an even more irreverent and charismatic commander-in-chief than usual, and putting on an act to win the girl he's wooing. It's still no one but Chance though. with his rare ability to change shapes while still retaining such a strong central musical identity.
5. "Finish Line" / "Drown" [feat. T-Pain, Kirk Franklin, Eryn Allen Kane & Noname]
There are multiple Harry Potter references in Chance's raps on this album, the most bizarre being "Any petty Peter Pettigrew could get the pesticide" on "How Great." This is familiar stuff for to Chance: call-and-response gospel, but perhaps the best iteration of that style on the tape. A lushly harmonized T-Pain, after all, is the leader of the prayer meeting. There's also some of Chance's most grabbing rapping in his two focused verses. As in most of his work — and certainly his best — serious, pointed observations are juxtaposed with left-of-center one-liners ("I've been getting blocked just trying to make songs with friends/Labels told me to my face that they own my friends/I got to pray I got to pray, like Hammer after "2 Legit"/I got the power I could poke Lucifer with crucifix").
"Drown" speaks to the singular power of Chance affiliate Noname's (formerly Noname Gypsy) conversational, richly poetic style; it then becomes basically a rote Kirk Franklin song, which is far from a bad thing. Another song demonstrated how thoroughly Chance has carved out his own musical niche, making something more than convincing out of an unlikely collection of parts.
6. "Smoke Break" [feat. Future]
Is this trap music? Sort of, at least in swagger. But also its soul, with chord changes and orchestral horn backgrounds ripped from some Randy Newman film soundtrack. There's harp sweeps, Fetty Wap and Gucci Mane references, and Future Hendrix tagged onto the end, doing some of the most original work he has in the last half-year or so. Only Chance could lure him onto a beat like this, and bring out the best in him, as he has with all of his celeb collaborators on this album.
Download Coloring Book at various outlets, including Apple Music and your favorite mixtape site.