How to Listen to Chance the Rapper's New Album, 'Coloring Book'
The Chicago native returns with his latest album after suffering from pneumonia earlier this week.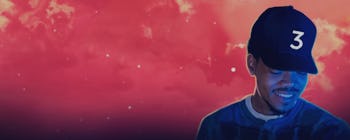 Smashd
Happy Thursday! Chance the Rapper's all-new album hit the airwaves this evening, after undergoing a last-minute title change from Chance 3 to Coloring Book. This marks the Chi-Town native's first album since his 2013 release Acid Rap, and features big-name stars such as Kanye West (who featured Chance on his latest album, The Life of Pablo), Jeremih, Young Thug, and Lil Yachty. The album is available now through Apple Music.
The rapper himself has been recovering from a spell of pneumonia that led to a hospitalization and the cancellation of his appearance at Monday's NYC benefit for the Robin Hood Foundation. Regardless, the album's debut pushed forward, with an early release of "No Problem" (featuring Lil Wayne and 2 Chainz) dominating radio stations for most of Thursday until the album's evening release.
Several small leaks succeeded in teasing eager fans leading up to tonight's debut, including tracks such as "Angels," which features Chicago-based newcomer Saba on an energetic track that will definitely change the mood of any listener. Other tracks bring out some well-known talent: "Smoke Break" is an essential summer jam that moves with the ease of Future's smooth bars guiding the backbone of the tune. The full track list fills out with even more:
All We Got (feat. Kanye West and Chicago Children's Choir)
No Problem (feat. Lil' Wayne and 2 Chainz)
Summer Friends (feat. Jeremih and Francis and the Lights)
D.R.A.M. Sings (Special)
Blessings
Same Drugs
Mixtape (feat. Young Thug and Lil' Yachty)
Angels (feat. Saba)
Juke Jam (feat. Justin Bieber and Towkio)
All Night (feat. Knox Fortune)
How Great (feat. Jay Electronica and Nicole)
Smoke Break (feat. Future)
Finish Line/Drown (feat. T-Pain, Kirk Franklin, Eryn Allen Kane, and Noname)
Blessings
Fans can get in the action by designing their own Coloring Book apparel or grabbing some from the rapper's website.