The Five Best Things About Donnie Trumpet's 'Surf'
What to know from the joyous new Chance the Rapper-affiliated release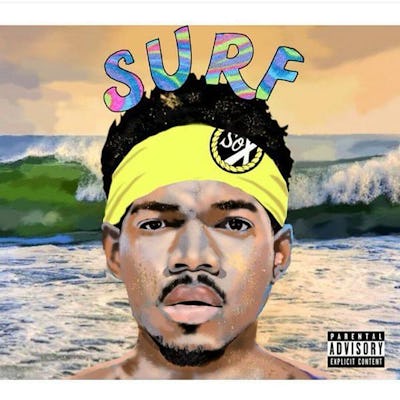 Taylor Bennett (@_TaylorBennett)
Earlier this week, Chicago musician Donnie Trumpet released Surf — a record that has generated buzz thanks to rising star and fellow Chicago native Chance the Rapper's involvement — for free on iTunes. It's a jubilant record full of heart and it's one of the best releases of the early summer. Here are the five best parts worth taking note of when listening to Surf:
The Features
Some of the best performances on Surf come courtesy of its extensive roster of guest stars. The tracklist acknowledges some local greats (King Louie, Jeremih, BJ the Chicago Kid), national superstars (Big Sean, J. Cole, B.o.B), and all-timers (Erykah Badu, Busta Rhymes), along with up-and-comers (D.R.A.M., Raury, Noname Gypsy). The variety of voices present ensures that the listener is consistently engaged, unsure of what might come next. Each artist also recognizes the consistent mood and gleeful tone of the album and adjusts her/his respective style to enhance the album without pulling you away from Surf's central energy. Migos' Quavo, for example, eschews his group's typical shout-rap, short-bust flow in favor for an Auto-Tune croon on "Familiar" that mirrors Chance's familiar half-sung vocal.
Donnie Trumpet
Donnie Trumpet is the alias of Nico Segal, a member of Chance's Social Experiment. Segal was formerly in the Chicago funk group Kids These Days with fellow SaveMoney member Vic Mensa. From the beginning, Chance the Rapper was adamant that Surf would be a Donnie Trumpet album, first and foremost, with support from the Social Experiment. With that, some great horn playing from Mr. Trumpet was to be expected. The first instrumental taste from Surf was "Nothing Came to Me," the short film starring Cara Delevingne. Some of Surf's best moments are when everyone else takes a step back to let Segal take center stage. The extended version of "Nothing Came to Me" is a great minor-key foil to the jubilant album. The tension is resolved by its companion piece, "Something Came to Me," a calmer trumpet solo that furthers the album's primary theme of self-love.
Yes, Self-Love
Since releasing Acid Rap in 2013, Chance the Rapper has gone on a tear of joy. Even "I Am Very, Very Lonely" came with the feeling that loneliness can be comforting. His belief in the existence of good in the world came to a head with his "Arthur" theme song cover, "Wonderful Everyday." Surf is a joyous album that focuses on self-love. The Social Experiment (SoX) promote uniqueness, especially in the face of "coolness." On "Familiar," Chance, King Louie, and Migos' Quavo deride those who are happy to be cookie-cutter human beings. "Wanna Be Cool" flips the script on rap machismo as Chance, Big Sean, and KYLE brag about their own lameness and humble beginnings.The Social Experiment's brand of self-love works so effectively because it does not deny unhappiness. Instead, SoX look negativity in the face with a big grin, ready to overcome obstacles and focus on self-love and improvement. "Sunday Candy" best exemplifies Surf's unbridled joy as Chance raps to his grandmother, essentially thanking her for loving him. As four Britons once put it, Surf professes that love is all you need.
Vibes
If nothing else, Surf is feel-good music that sounds good. It's good for a summer rooftop party or a Sunday morning cleaning your room. Capped by closing track "Pass the Vibes," Surf is aware that it is best to dig deep into an album once it is already enjoyable.
Chance's Improved Rapping, Which Is Exciting
Chance has steadily improved as a purely lyrical rapper since Acid Rap. On that mixtape, he relied heavily on simile and flow in rapping, as well as his own charm and taste to create an album that worked musically front-to-back. Chance comes out of the gate on opener "Miracle" with some of his best bars: "Not a care in the world or a pot for the piss / Which we share cause a pair costs a lot / Not a pear in the world that the world wouldn't miss much as this / And if it isn't the same then it's apples and lemonade." Chance already knew what he wanted to say. Now he knows exactly how to say it.