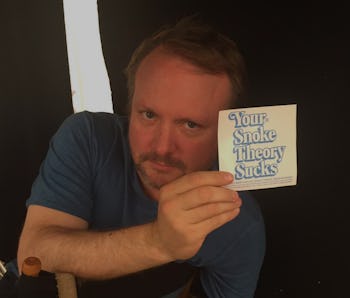 Entertainment
Even Star Wars Director Rian Johnson Thinks "Your Snoke Theory Sucks"
"Loosen up, keep Star Wars fun!"
Who is Supreme Leader Snoke?
Since the latest Star Wars movie released last December, fans have devised all sorts of over the-top theories about the creepy maybe-holographic giant from The Force Awakens. Lucasfilm exec Pablo Hidalgo debunked a big one and now even director of Star Wars: Episode VIII Rian Johnson wants you to know he thinks that "Your Snoke Theory Sucks."
In a photo tweeted by Lucasfilm employee Kristen Hidalgo on Tuesday, Johnson is seen holding a sticker manufactured the host of a humorous Star Wars fan podcast, SteeleWars. Based in L.A. and Melbourne and created by the comedian Steele Saunders, the podcast focuses on giving its listeners light-hearted Star Wars commentary, most recently covering everything in the recent Star Wars Celebration. Steele Saunders also is responsible for a kind of one-man Star Wars version of The Onion called The Midichlorian Count which serves up fake-news stories on Star Wars fandom.
However, it's clear now that Steele is rapidly being known for that "Your Snoke Theory Sucks" sticker making the rounds on Twitter.
It might be easy to poke fun at Star Wars, but it takes guts to poke fun at Star Wars fans. With his wry jabs at fandom, Saunders is something of breath of fresh air in the world of Star Wars mania and endless discussion. But what does the strong reaction to the "Your Snoke Theory Sucks" phenomenon mean?
To be sure, various Star Wars fan theories on a possible secret identity for Snoke are numerous and absurd. Snoke is really Rey's father. Snoke is a future version of Kylo Ren. Snoke is Jar Jar Binks. You get it. Pablo Hidalgo has described Steele's sticker as "handy" implying it will destroy the mountain of weird fan theories not only about Snoke, but, about pretty much anything having to do with Star Wars.
Inverse recently reached out to Steele Saunders himself to get his take on the origin of this sticker and why it's becoming so popular not just among fans, but also, loved by official Star Wars people, too.
Walk me through how this Snoke sticker came to be
I like to try come up with t-shirt prints that are Star Wars references but don't necessarily look like a Star Wars t-shirt. With Star Wars Celebration Europe coming up I shelled out to print up a few thousand stickers to hand out to try get drum up some publicity for my podcast. With so much in the way of promotional fliers at a event like that I figured a flier boasting about our previous guests & reviews would just end up on the ground. But, a funny sticker would at least make people laugh.
Why do you think it's so popular?
There's the old cliche in stand-up [comedy]; "its funny because it's true". I think a lot of fans are just burned out on the ridiculous theories, many of which would just make Star Wars kinda lame. So many of the theories are just call-backs to characters that wouldn't actually add anything to the story. [The sticker] is just a blunt reaction to that. It was really fun to watch people's faces light up with a laugh when they read the sticker they were just handed.
Plus, the old school vintage Kenner Toys style font makes it aesthetically pleasing. We all have such warm memories of that typeface. (Which was really nicely replicated with some help from my friend Leighton James Dyer from Muckmouth.com).
What's hilarious to me is that people are actually getting mad at Rian Johnson and Pablo Hidalgo for tweeting pictures with it. It's all in good fun people. Loosen up, keep Star Wars fun!
Okay, but who is Snoke?
It's me.
You can check out all of Steele Saunders's Steele Wars podcasts here and get your very own #YourSnokeTheorySucks sticker here, too.
This interview has been edited for brevity and clarity