These 4 Movies Influenced Rian Johnson's 'Star Wars'
Check out the four movies that might give us some insight into the next episode of the 'Star Wars' saga.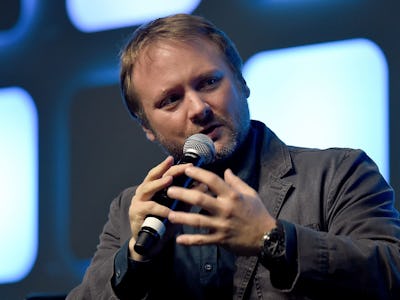 Getty Images / Ben A. Pruchnie
The big Star Wars Celebration 2016 just ended in London. Though it seemed like a memorable weekend for the throngs of fans in attendance, nothing of real substance was revealed about the expanding franchise for fans stuck at home. They announced Admiral Thrawn was coming to the Rebels TV series, showed a Rogue One sizzle reel (three times), and actor Jiang Wen potentially spoiled a fairly big plot point. That's about it. Even the highly anticipated "Future Filmmaker" panel that was meant to be the unofficial closing ceremony for Celebration, touting big names like Han Solo co-directors Phil Lord and Chris Miller, new Solo actor Alden Ehrenreich, and Episode VIII writer/director Rian Johnson, came up short.
We were fully expecting a title reveal for the next Star Wars episode, but instead we got Lucasfilm president Kathleen Kennedy's reassurance that Johnson "moves the camera as well as Steven Spielberg." Instead of giving fans any solid details about his film, the Spielberg-esque Johnson did give fans a taste of the kinds of movies that inspired the cast and crew while making Episode VIII, and all of them happen to be streaming on Netflix and Hulu right now.
12 O'Clock High - 1949
Perhaps the biggest influence on Johnson and co. is this World War II drama starring Gregory Peck as a courageous Brigadier General who leads a squadron of B-17s in dangerous daytime bombing runs over Germany. The original Star Wars movie was seriously influenced by World War II iconography, from context to costume, and most importantly in scenes like the dogfight between the Millennium Falcon and a squadron of TIE fighters. Will Poe and the Resistance be attempting to strike the First Order behind enemy lines like this movie? We'll have to wait and see.
Letter Never Sent - 1959
This semi-experimental and surreal Soviet feature by filmmaker Mikhail Kalatozov
about a group of geologists trapped by an encroaching forest fire in central Siberia while on a mission to find precious diamonds is like an art house adventure film. At the Star Wars Celebration, actor John Boyega told fans that Johnson is doing an indie movie within a studio franchise," and the director's small-time sensibilities will likely bridge a seemingly contradictory gap between art and actions just like Kalatozov's film.
Three Outlaw Samurai - 1964
Another big influence on the Star Wars saga has been samurai cinema from the likes of Japanese legends like Akira Kurosawa, but Johnson singled out this little-known debut feature by director Hideo Gosha as an influence on Episode VIII. Three Outlaw Samurai involves a wandering ronin who joins up with two other samurai to execute a group of peasants who have kidnapped the daughter of a local crooked magistrate. In his essay featured in the Criterion Collection release of the film, critic Bilge Ebiri singled out Gosha's "depiction of the loss of honor through blind loyalty (and its liberating opposite, the regaining of honor by betrayal), and in the sharp contrast he makes between the refined, comforting worlds of power and social duty and the wild, almost animalistic existence of those who choose freedom." Though a bit wordy, Ebiris essay and Three Outlaw Samurai mirror the broader themes at play throughout the Star Wars saga.
The Bridge on the River Kwai - 1957
Starring original Obi-Wan Kenobi himself, Sir Alec Guinness, this inimitable epic by filmmaker David Lean has the dubious honor of being the film he made before Lawrence of Arabia, but that doesn't stop The Bridge on the River Kwai from continuing its influence on things as wide ranging as the eighth installment of a space opera. The film, about a British colonel (Guinness) who oversees his fellow POWs' construction of a railway bridge for their Japanese captors, could hint that in Star Wars some recognizable faces in the Resistance might be in for some trying times.