You Can Play J.J. Abrams in 'Lego Star Wars Awakens' Because Why the Hell Not, I Guess
Will kids recognize J.J. Abrams, or even want to play as him in a video game?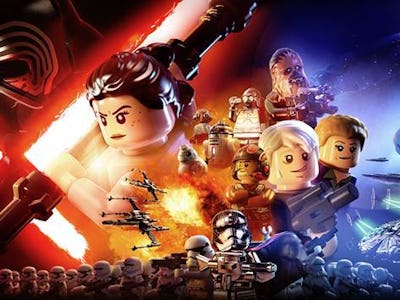 Facebook /LEGOStarWarsGame
Filmmaker J.J. Abrams wears many hats. He's a director, producer, screenwriter, composer, and now, weirdly enough, a video game character composed of Legos. Both Abrams and Lucasfilm president Kathleen Kennedy are essential parts of the production behind movies like The Force Awakens, but now they're both in front of the digital camera as playable characters in the new game, Lego Star Wars: The Force Awakens.
We suppose that kids will be excited to play as people who we can only assume are their favorite director and CEO – after they've gone on all the missions as regular characters like Rey or Finn or Kylo Ren.
Lego Abrams and Lego Kennedy (who is decked out in the white blazer and multi-colored Star Wars tee she wore at the Force Awakens Celebration panel) can do everything those characters can, and more. They can command Resistance missions and troops, while Abrams is armed with his trusty Lego movie camera that probably doesn't do much of anything. Both seem to be pretty good with a blaster, though we can't vouch for their marksmanship in real life.
Check out gameplay video from Kotaku below:
This isn't the first example of a semi-bizarre Lego video game secret character. Steven Spielberg and director Colin Trevorrow were un-lockable characters in Lego Jurassic World, while DC chief Geoff Johns and fanboy filmmaker Kevin Smith were playable characters in Lego Batman 3.
Noticeably absent from this Star Wars game is original mastermind George Lucas, whose Lego character would've probably had the power to complain about how the Force Awakens game just ripped off earlier Star Wars games or something. He did, however, appear in Lego form in Lego form in the Lego Star Wars: The Padawan Menace and a short film called Lego Indiana Jones and the Raiders of the Lost Brick.
Lego Star Wars: The Force Awakens is available now.