See the Amazing Costume for Kid Flash in 'The Flash' Season 3
One of the best superhero costumes on TV arrives this fall.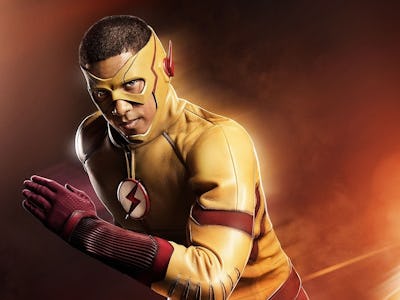 The CW
While Season 3 of The Flash isn't until October 4, the CW just unveiled the first look at Keiynan Lonsdale, who plays Wally West, in Wally's signature yellow Kid Flash costume.
The possibility of Wally inheriting his super speed came late in Season 2 of The Flash, when Barry entered the Speed Force in a phenomenon that knocked out Wally and Jesse (Violett Beane), who may or may not also become Jesse Quick.
Wally has had a key role throughout The Flash books and the entire DC continuity. Introduced in The Flash #110 in December 1959, Wally became a member of the Teen Titans until 1985's Crisis on Infinite Earths. After the death of Barry Allen, Wally West took on the mantle of The Flash where he became a beloved character through books written by the likes of Mark Waid and Geoff Johns. After the New 52 erased Wally West (to the ire of fans), Wally returned in DC: Rebirth #1 as a presence trapped in the Speed Force until Barry Allen remembered who he was. He then returned to his old team, the Teen Titans, in Titans: Rebirth #1.
Now, on the official Twitter for The Flash, there's a first look photo of Wally in his Kid Flash attire — and he looks great! It's much better than how the first photo of Barry Allen's Flash was presented back in early 2014. The overall costume for Keiynan's Kid Flash is also great. It's modern and efficient but fully embraces the Golden Age roots of the character. It's easily one of the best costumes to come out of the CW Arrowverse.
The official website for DC Comics also supplies another picture, with Kid Flash in mid-sprint. Expect to see cosplayers imitating this shot at Comic-Con.
The Flash returns for its third season to the CW on October 4.