DC Comics Television Is Now Primed for 'Crisis' and 'Supergirl' Must Be the Center
DC is about to have the biggest superhero cross-over ever on TV, but only 'Supergirl' should be changed.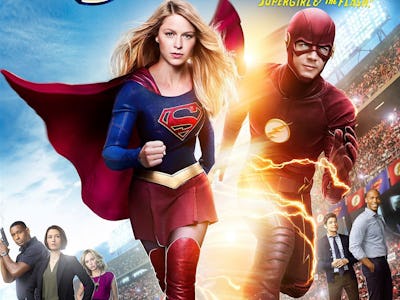 CBS
In the mid-1980s, DC Comics had a crisis: Its stories were stagnating.
The publishing company was a superhero-centric universe with a bloated and confusing narrative, and the comic book audience had become insular. So to get civilians interested in its bizarre stories, DC did something huge: It rebooted. In 1985, with Marv Wolfman and George Pérez at the helm, Crisis on Infinite Earths reset the DC universe with a fresh start for its household superheroes and mapped out a unified universe. DC would infamously do this again, several times, but Crisis in '85 laid the groundwork for the future.
In 2016, popularity for capes and cowls has made it hard to fathom the scope of DC's shows. Arrow, The Flash, and Legends of Tomorrow are ambitious achievements, despite often featuring dumb characters and hilarious computer hacking. Just like comics! And sure, TV has a history of spin-offs and prequels, but there's never been anything like the Arrowverse, which only became bigger with CBS expat Supergirl moving to the CW (Arrow's home base), thereby enabling a planned cross-over event in the fall.
Here's the rub: Supergirl inhabits a different universe; when the show crossed-over with The Flash, Barry stumbled upon Kara Zor El's reality by accident. Meanwhile, layers to the Arrowverse were added with the time-traveling Waverider in Legends of Tomorrow showing alternate futures and fates yet to come.
So, imagine a televised Crisis on Infinite Earths. All of the universe's superheroes — even Constantine and Vixen — thrown together, while Supergirl's reality is properly folded into the reality of the Green Arrow and Flash. It's not just a symbolic gesture of welcoming her to the network, it would actually be an actual tidying up of the DC TV-verse.
These shows can and likely will continue as they do, with a one-off phenomenon allowing the fan-pleasing team up. Anything extra like Crisis would be a logistical nightmare.
The momentum driving rival Marvel forward with its universe is the urgency of the coming war against Thanos for the Infinity Stones, which will climax in Infinity War. There's no urgency like that in the DC TV-verse, and any predictive notion of the future is frustratingly open-ended.
As it stands, while the Green Arrow and Flash battle assassins and meta-humans and Rip Hunter and his crew join the Justice Society of America, Supergirl is doing her own thing. On her own. That's awkward, for a network touting its monopoly of TV's superheroes who aren't on Netflix.
The CW's slate of superheroes has innovated television, but a full blown Crisis-style arc, an interconnected narrative told over four shows across four days, would be another unprecedented move and solidify the genre's legacy in the Golden Age of TV. It's only fitting, since DC dominated in the Golden Age of comics. (Crisis happened in the Bronze Age, for those keeping score).
The network would have to take some liberties with the source text. Supergirl actually died in the comic book Crisis on Infinite Earths, and that's not ideal given the character just barely got her well-earned Season 2. Plus, there would be glaring omissions from the story, like Batman and Wonder Woman, but I think the underused Constantine and Vixen would be fun replacements, given the limitations. And really, no one should ever expect 1:1 recreations of comic book stories. The whole point of Crisis was to simplify everything.
A four-way cross-over is inherently novel and would instantly be eaten up by fans, so there's not much of a need for a massive, genre-defying Crisis storyline on TV. But the attraction in these bombastic comic book storylines (the essential nature of superheroes teaming up to fight evil together) is predicated on one factor that would guarantee a televised Crisis on Infinite Earths to succeed: It would be awesome.